Bitcoin and the crypto market have continued their downtrend. Amid this downtrend the overall narratives and value propositions of crypto have not changed. We discuss ways to take advantage of cheap coins and of getting into the market safely.
State of the market
Bitcoin and the crypto market have continued their downtrend. This can best be seen by the red Heikin Ashi candles in the weekly Bitcoin chart below. Bitcoin even dipped to $33k this week as fear in the markets continued to drive prices downwards. Major drivers have been (1) interest rate increases to be announced at the FOMC meeting on Wednesday, (2) Covid19 pandemic, (3) crypto (mining) bans, and (4) war in Eastern Europe.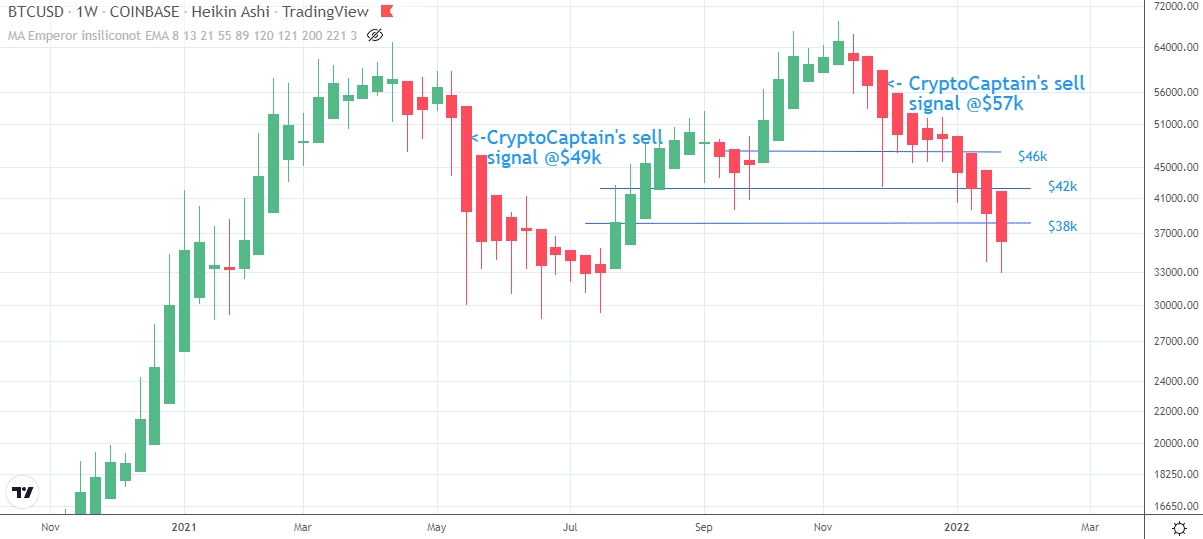 What is the market sentiment?
CryptoCaptain's crypto market sentiment continues its downtrend and heads towards bearish territory.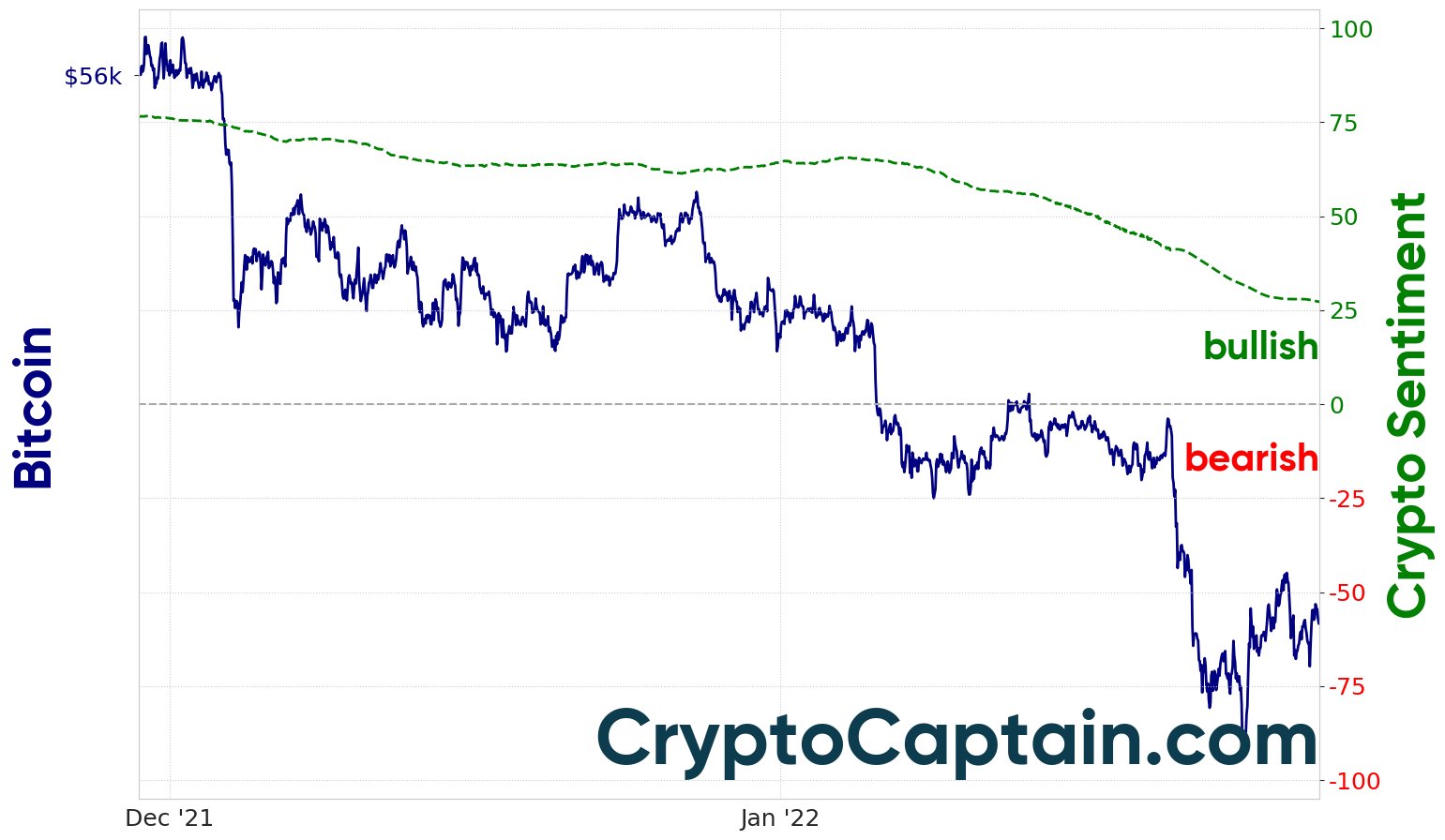 Where is the market gonna go?
Nobody can predict with certainty. Of course it seems to be safe to stay on the sidelines of the market for a while. CryptoCaptain sent a sell signal when Bitcoin was trading at $57k in November. So you could have taken advantage of that to safe your portfolio.
Many market indications are as bearish as during major former crises like the Corona crash in March 2020 or end of 2018 crypto winter. Both events marked the bottom and relief rallies embarked soon after these events. However, the current downtrend could still continue or sideways action of several months and even a large final capitulation with high volume could still be on the table.
Why crypto is not dead
Amid this downtrend, have the overall narratives and value propositions of crypto changed? No. Bitcoin's supply is still fixed to 21 million and is still a store of value. Ethereum is still the number one platform for decentralized applications one which everyone can launch their own token. And the community itself and also third party projects are working on improving the ecosystem further with higher scalability and lower fees. At the same time, adoption of crypto around the globe is a rising curve. Digital natives, millenials grow up with crypto. Institutions, banks, and asset managers continue to adopt it. So, the actual belief that crypto is gonna make it – eventually – could still be very strong.
As a crypto believer, how could you best get into the market?
Markets that look like they are going to hell mark good times for buying for the ones having the conviction and for believers with a mid-to-long-term investment horizon. That is what the guys with the big accounts do. The horizon doesn't need to be as long as on the stock market. The stock market might require holding for 10 to 15 years to sit out a bear period – like from 2000 to 2010. In crypto the worst case has been so far only 3 to 4 years. Imagine you bought at the market top in 2017 at $19k. The market reached that mark again in end of 2020.
To be pretty safe for entries in current markets, one could wait for signs of reversal. For instance, they Heikin Ashi candles of the weekly Bitcoin chart turning green (on your Tradingview screen) could be a sign of a reversal. When you see such signs, you already missed a bit of the move to the upside. That's the price of safety. Otherwise you might get trapped in a little relief rally before the downtrend continues.
The other options to get into the market are a) placing some buy limit orders at unimaginable low levels and once a potential final capitulation happens, they might get filled – if the exchanges happen to still work (which is not guaranteed), and b) defining important levels (further to the downside) price should reach to slowly buy into the market with some percentage (say buy with 10% at level 1, another 20% at level 2 and so on). That's dollar cost averaging-in. It acknowledges that you won't hit the exact bottom.
In case you want to relief yourself of timing the market, our signals for mid-to-long-term crypto investors will help get you positioned on the right side of the market. Sign up now for peace of mind!