State of the market
Bitcoin and the crypto market have continued their downtrend over the last two weeks, which Bitcoin started at $69k. Recently, Bitcoin could not hold the important level of $40k and dipped even below to $38k.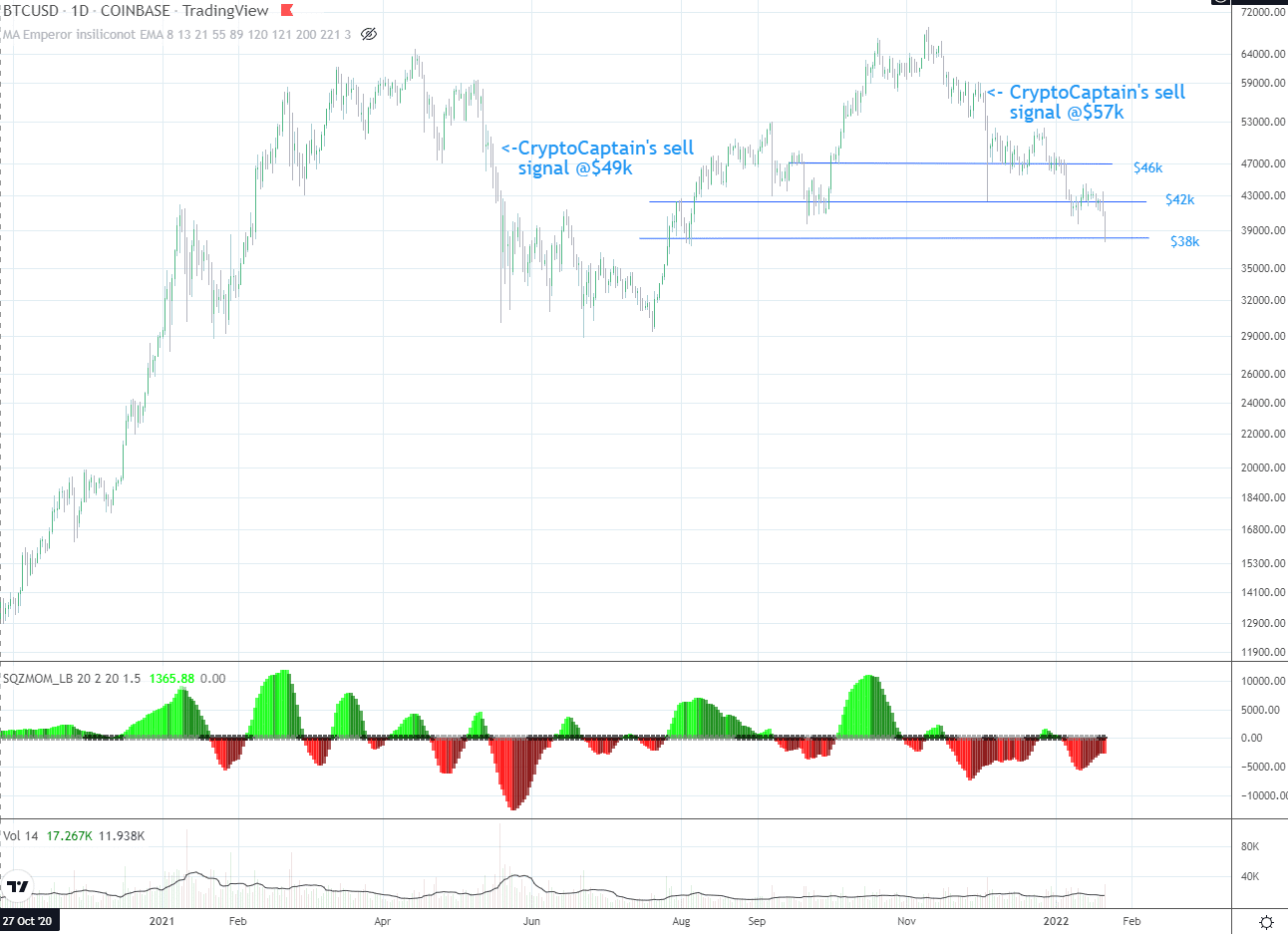 What caused the downtrend?
Several reasons may have caused this downtrend.
1) Foremost, the Fed has tightened their money policy by announcing interest rate hikes and tapering. This badly impacts the equity and the crypto markets as lending money for investments becomes more expensive and the Dollar becomes more attractive.
2) Bans for crypto mining have been announced, e.g., in Kazakhstan . And Russia wants to ban crypto alltogether because they fear loosing control over the currency system.
3) A war in eastern Europse lurks around the corner.
What is the market sentiment?
On the short-term, there's fear in the market. CryptoCaptain's crypto market sentiment has also taken a nosedive together with the market's downturn. However, it still remains on a bullish level (with a mid to long-term perspective). That is, there is still hope that the market will turn to the upside over the next months.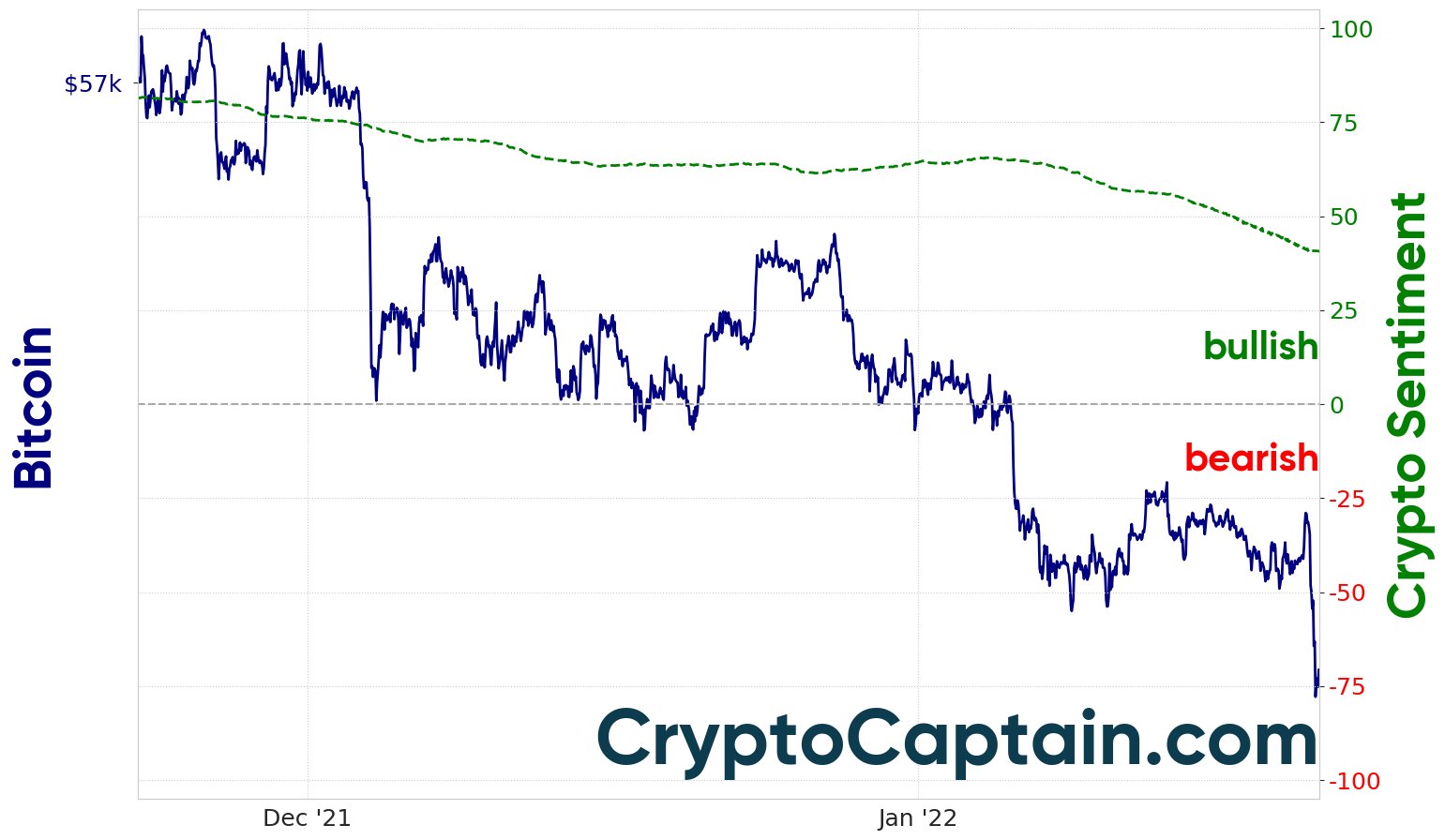 Where's the bottom?
Each plunge in this downtrend has been a little less deep than the former one. That is, there is still a lot of interest in buying crypto.
An often cited onchain analysis, the Entity-Adjusted Dormancy Flow, shows that a potential bottom may have been reached in the current downtrend. At least historically, its current reading has well marked market bottoms (see figure below and read here for more details).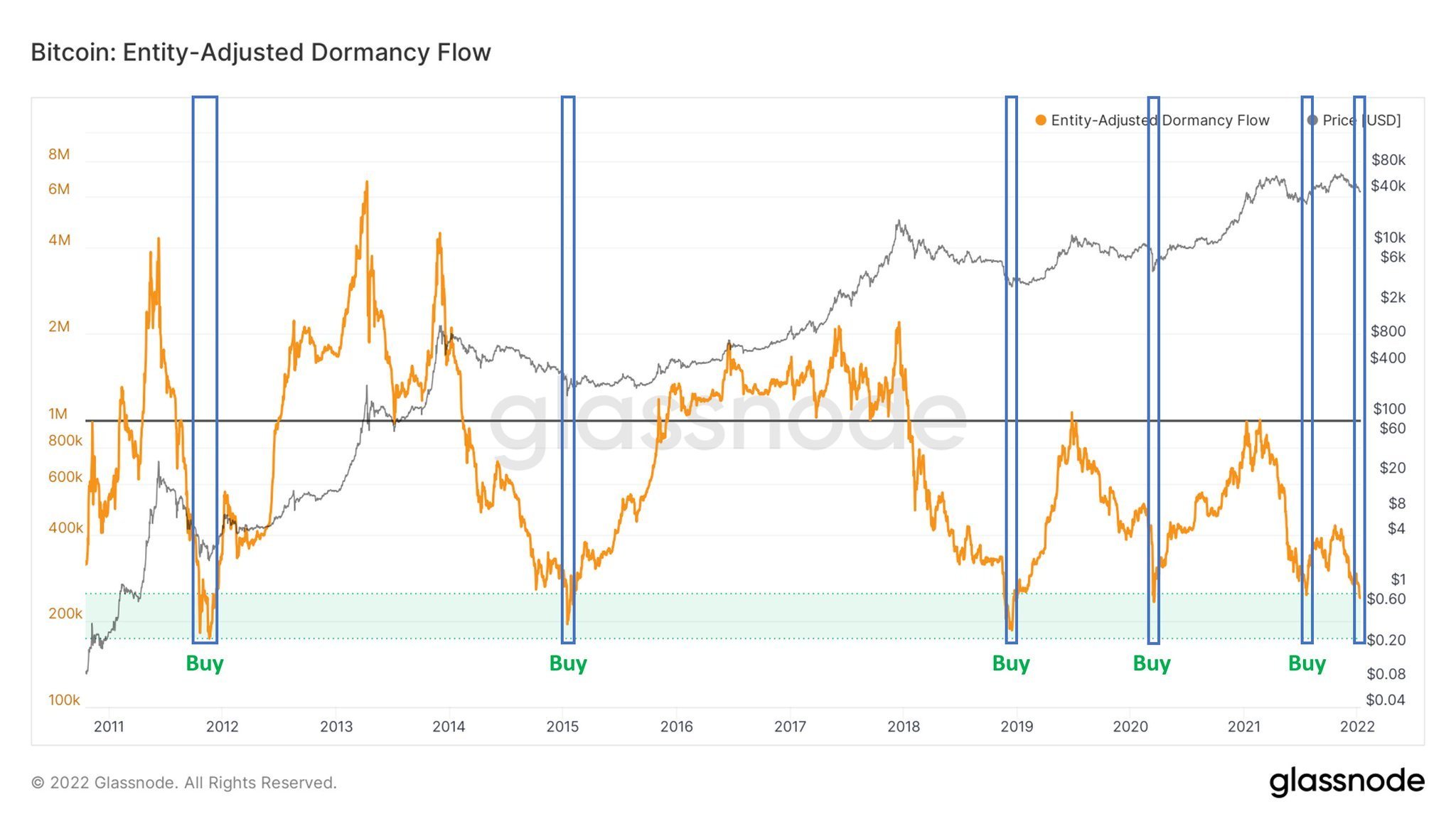 However, nothing is sure until the trend actually reverses. But like in summer 2021 that may happen pretty quickly once the reversal sets in.
While everyone waits for buying crypto / Bitcoin at $30k, the current nuke below $40k might be similar to the nuke below $30k in summer 2021, when this marked the beginning of the uptrend.
Still, some commentators suspect that there is a 30% change of a crypto winter upcoming in 2022 – similarly to 2018. On the other hand, the value propositions of Bitcoin and Ethereum are still intact and low price levels might be also regarded as buying opportunities. Although doing the right thing is often emotionally hard in the markets as one needs to overcome gut feel.
What is CryptoCaptain's AI about to do?
CryptoCaptain's members received a sell signal at $57k and (could) have safed their portfolios by following us. Since then, the downtrend has persisted and CryptoCaptain's investment strategy requires a bullish sentiment and sustained signs for a trend reversal in market data patterns to issue a buy signal.
Want to receive our signals to be positioned on the right side of the market? Sign up for our signal service now!