In a week that saw Bitcoin experience a third rejection in its attempt to break past the $60k mark, Bitcoin price extended its upward move above the $59,000 zone against the US Dollar yet again. BTC is showing positive signs and it is likely to accelerate further higher in the well-nigh.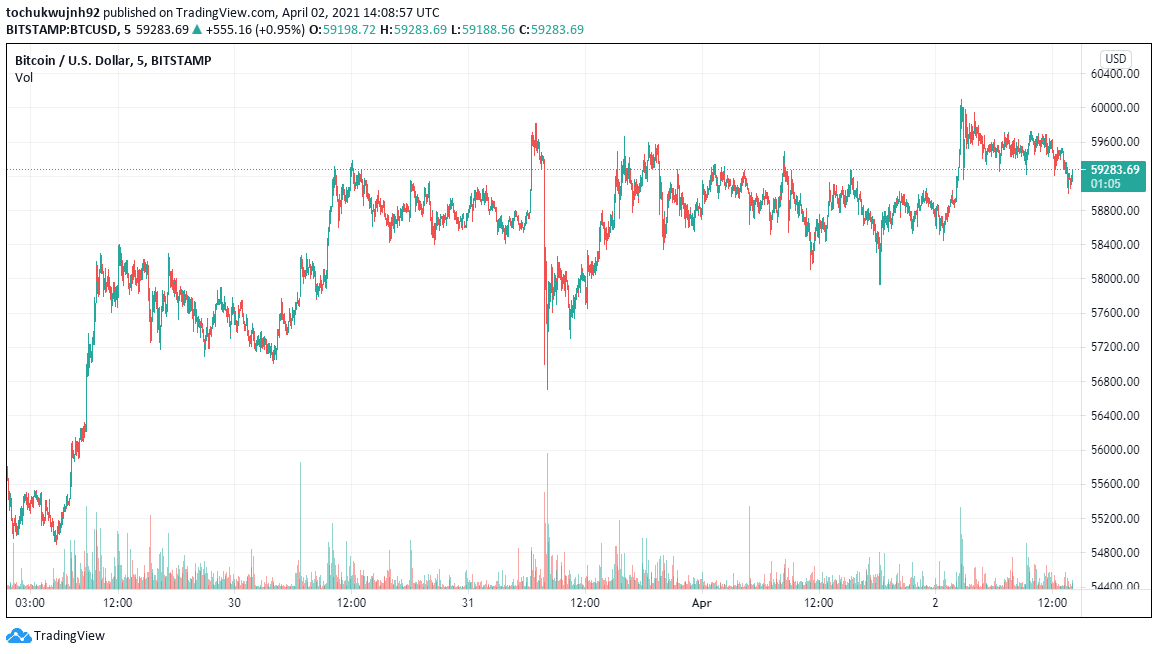 In a trading week that began with Bitcoin at $57,626 and at $59,283 as at the time of putting this article together, BTC is primed to move even higher in the coming days as believed by most analysts. The price had also turned down from today's high, but an encouraging sign is that the bulls purchased the dip and did not allow the BTC/USDT pair to re-enter the channel.
Bitcoin Adoption Blooming
In an interview with CNBC, Mary Rich, the global head of digital assets for Goldman Sachs private wealth management division announced that plans are being put together to allow its wealth management clients to trade in cryptocurrencies and other digital assets. This implies that Goldman Sachs joins the line of corporate firms following in the footsteps of Morgan Stanley, who had earlier announced the plan to introduce Bitcoin to its millionaire clients.
With two of the world's prominent investment banks adopting Bitcoin, it is most likely going to force other banks to do same. And with fresh money from clients of these firms, there is every likelihood of further increase in demand of the crypto asset hence a boost in price.
Technicals Signaling 'Buy'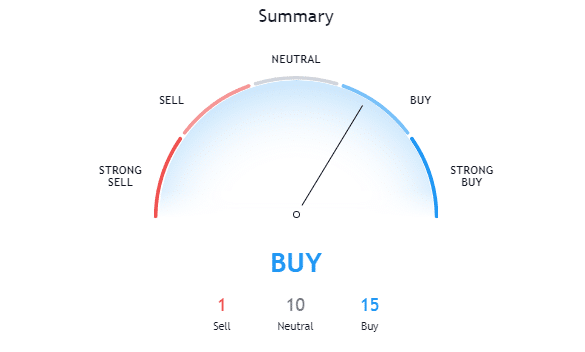 A close study of the technical shows that it supports a "buy" trend.  According to TradingView's technical analysis, 15 of the 26 technical indicators are signaling "buy" while only 10 remains neutral, only 1 of the technical indicators signal "sell". Trading view's moving averages supports a "strong buy" action. With technicals signaling buy, more trading action is expected to happen in the coming days.
CryptoCaptain's Sentiment Analysis

Even though market sentiment has become less bullish over the past weeks, BTC and ETH look bullish. Although volume is low, BTC should break resistance at 60k, then next target 68k. If ETH breaks to new all time highs, smaller altcoins will follow. Owning some altcoins seems a good idea.
Want to receive live updates on our premium crypto market sentiment and high quality investment signals of when to buy and sell crypto asset to not miss out the next bull run? Signup today
☑️ To get live updates and premium signals: https://t.co/d9yl4C6eri