Bitcoin, the digital currency giant started off to a good start this week but took a sharp drop trend following news that Tesla suspended accepting BTC as payments for their electric vehicles. A sea of reds for the crypto world at some point this week. The question now is, is it time to buy or wait and see?

Along with the fundamental cause, Bitcoin had also broken beneath a rising wedge formation a day before this, as. The massive sell-off had accomplished the mentioned target of $46-47K, which was also the monthly lows reached in April.
Despite slumping to around $47k yesterday, bitcoin has seen a decent rebound of about $3K before retracing to around the $50k levels (as of now). The coin is currently battling to remain above an ascending trend line that dates back to February 2021 and forms a hammer candlestick pattern that could help to stall any further declines if today's closing candle closes like this. The latter is the optimistic option.
Tesla Stops Accepting Bitcoin: Price Falls In Response
The CEO of the world's number one electric vehicle manufacturing company, Elon Musk announced in a tweet that the company will stop accepting Bitcoin as a means of payment. In a tweet on Wednesday, Tesla's CEO cited Bitcoin's energy consumption as the reason why it is suspending Bitcoin.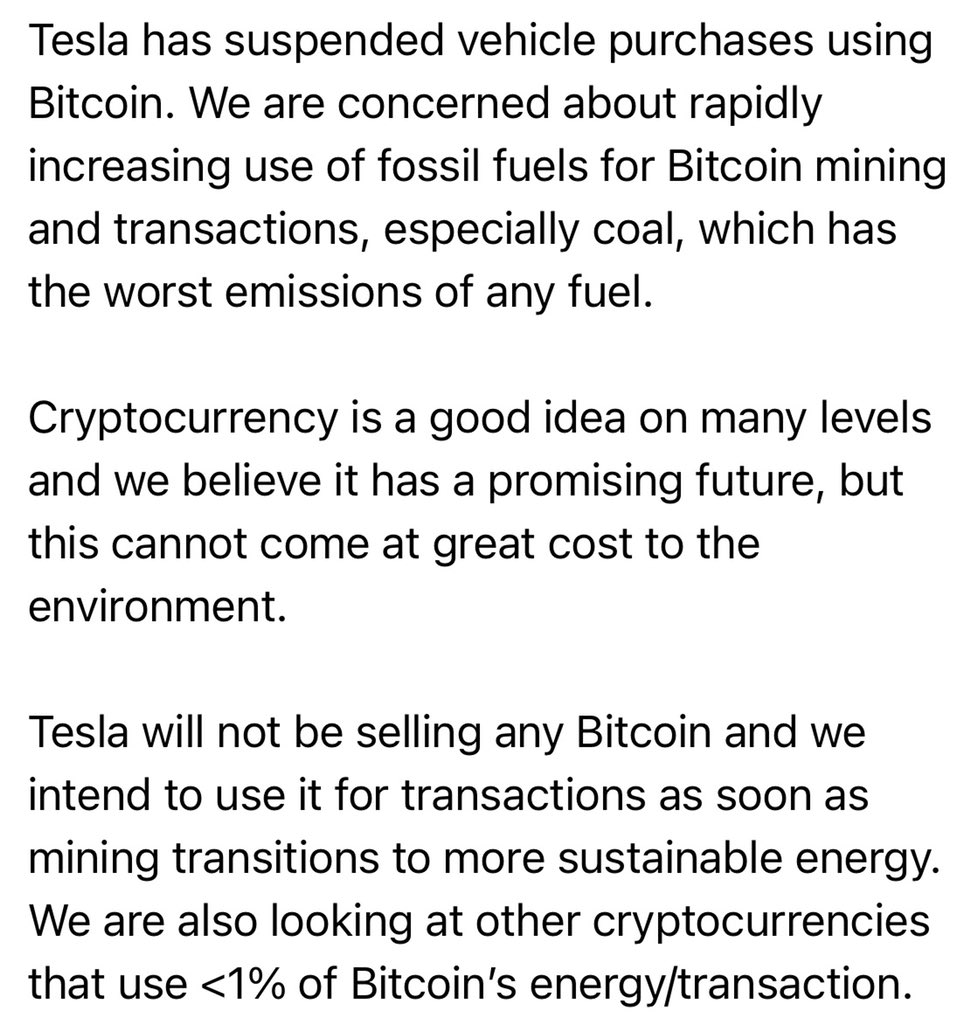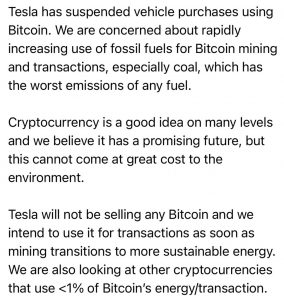 Having drawn significant criticism from environmental conservationists when Tesla first announced integrating Bitcoin to its payment gateway, the electric vehicle manufacturing company seem to have  succumbed to critics opinion which held that Tesla's adoption of Bitcoin was antithetical to it's apparent stance on managing global emissions.
Following Elon Musk's tweet, Bitcoin's price took an immediate hit, shedding $3,000 in just 15 minutes of the tweet. Tesla's decision sent Twitter and the Crypto world into Frenzy with traders alleging a 'pump n dump' while some 'joyfully' buys the dip.
What Bitcoin Experts Are Saying
High-profile traders and Bitcoin analysts strongly believe that Bitcoin market is still very much Bullish and sees the slump as an opportunity to buy the dip.
Market analyst William Clemente III sees the slump as "one of the greatest bull market buy opportunities in BTC history"
Adrian Przelozny CEO of Independent Reserve told Cointelegraph that Tesla's move was "disappointing."
"However, we've seen Bitcoin receive all sorts of bad press throughout the years, such as governments banning its usage. And despite that, Bitcoin has always recovered and grown to new highs," he said.
Long-term, I'm still very bullish on Bitcoin and don't believe that this announcement will significantly impact price or adoption.
What The Technicals Are Saying
Despite price slump a look at the technical shows that it still supports a "buy" trend.  According to TradingView's technical analysis, 11 of the 26 technical indicators are signaling "buy" while only 10 remains neutral, while 5 of the technical indicators signal "sell". This indicates a reduced selling pressure.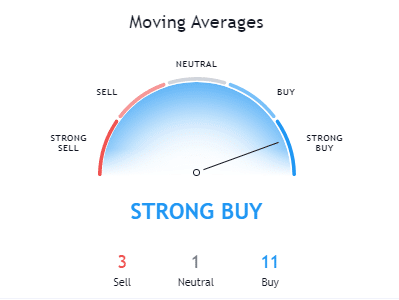 Trading view's moving averages supports a "strong buy" action. With technicals signaling a strong buy, more trading action is expected to happen in the coming days
CryptoCaptain Sentiment Analysis: 15% bullish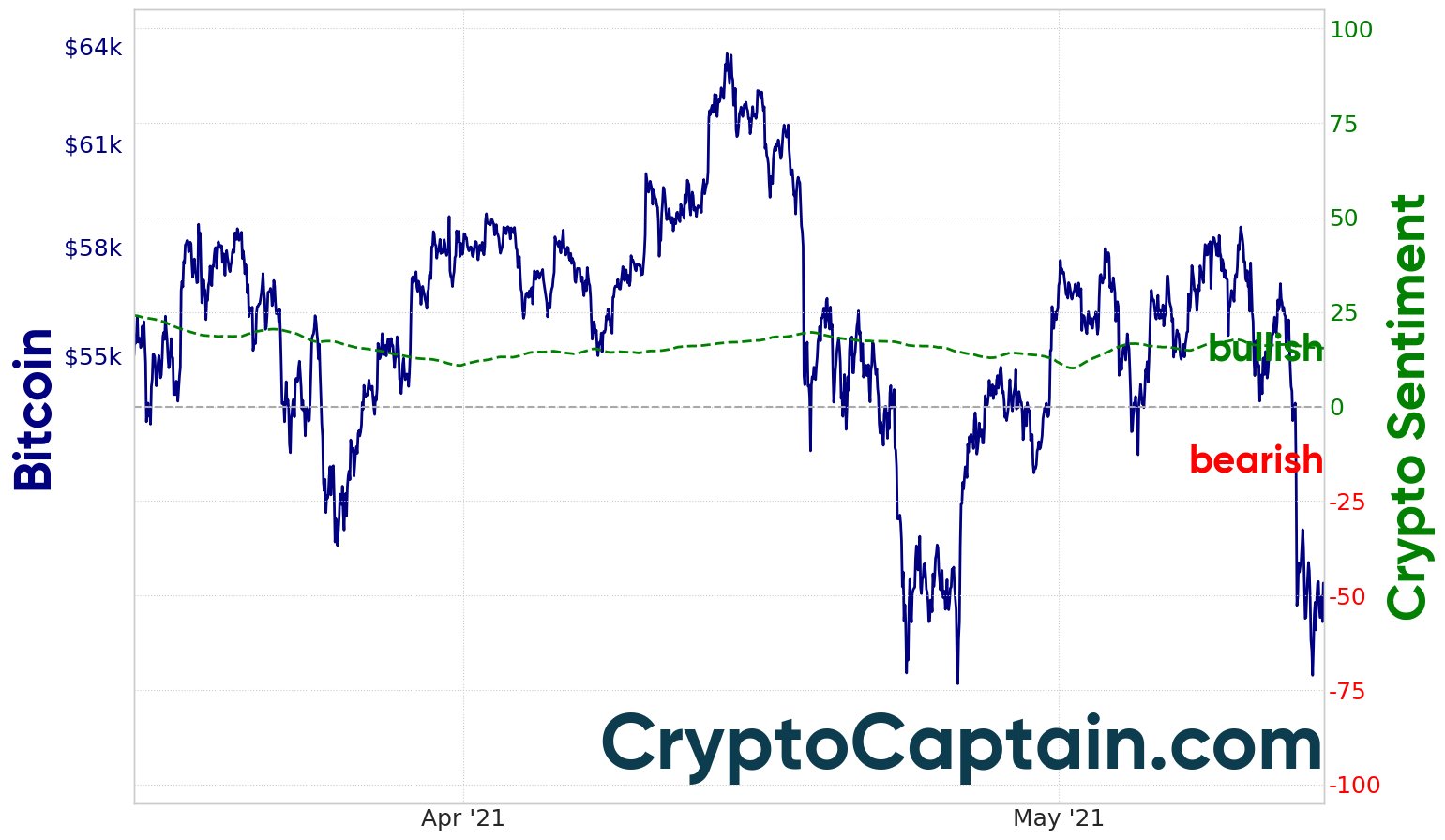 Decreasing bullishness over the course of a long bull run might signal that it runs a bit out of steam. However, the macro level bull market can still continue until the sentiment turns bearish.
Our market sentiment for Bitcoin's underlying fundamentals very much suggest "business as usual" for the largest cryptocurrency despite the recent upheaval.
Market Outlook
Time to buy or wait and see? Despite the bearishness, bitcoin is now facing a critical short-term decision. Bitcoin may have further to fall, but long-term price trends are still intact.
Is it a sell season for Bitcoin? – To be one of the first to know the answer, subscribe here to CryptoCaptain's premium buy and sell signals" Signup today