A week that sees Bitcoin trying to stage a comeback in order to catch up with spectacular price action seen in Ethereum and other altcoins. Is the Bull season over?

Comedian Bill Maher Just Made Bitcoin Decidedly 'Uncool'
The power being used right now to guess numbers and win imaginary prices is the same as all the electricity used to light all of New York State!
The exact words of Comedian Bill Maher, the host of "Real Time" on HBO. Bill made a clarion call for action despite appearing to be performing his comic duties on the show.
The comic and social critic highlighted the voracious amounts of electricity wasted on crypto "nothings". Maher called bitcoin "a Beanie Baby" that runs on coal", then humiliated the celebrities who purport to be strong environmentalists in public, but who participate in the enormous waste of electricity – much of it generated by coal – that is bitcoin mania.
With Treasury Secretary Janet Yellen, already antagonistic to bitcoin, environmentalism may just become precisely the pretext needed to carry out harsh restrictions or even a ban on private cryptos.
NYDIG execs: The US Banks To Allow Bitcoin Trading in 2021
New York Digital Investment Group, NYDIG  has inked a partnership with fintech staple Fidelity National Information Services, better known as FIS, to provide a framework for United States banks to offer crypto trading services to their customers, according to reports by CNBC on Wednesday.
Banks approval of crypto trading could see U.S. lenders competing with platforms like Coinbase and Square Robinhood, among others.
What Bitcoin Experts Are Saying
The best and most rewarding approach to trading and investing is always a long term view and never a chasing quick wins. The bigger picture should remain the focus.
This is very bullish for the markets.
Were the words of Bitcoin trader and market analyst Michaël van de Poppe as he shared an image of six companies that hold more than $11.4 billion in Bitcoin.
What The Technicals Are Saying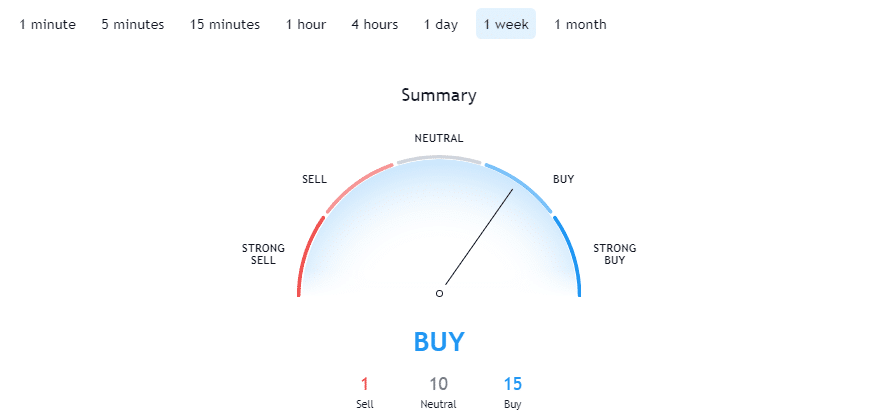 A look at the technical shows that it still supports a "buy" trend.  According to TradingView's technical analysis, 15 of the 26 technical indicators are signaling "buy" while only 9 remains neutral, while 3 of the technical indicators signal "sell". This indicates a reduced selling pressure.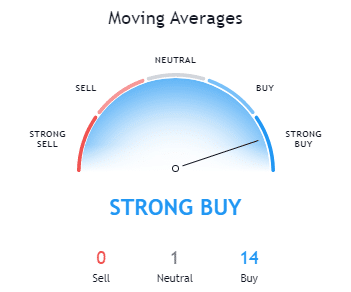 Trading view's moving averages supports a "strong buy" action. With technicals signaling a strong buy, more trading action is expected to happen in the coming days.
CryptoCaptain Sentiment Analysis: 16% bullish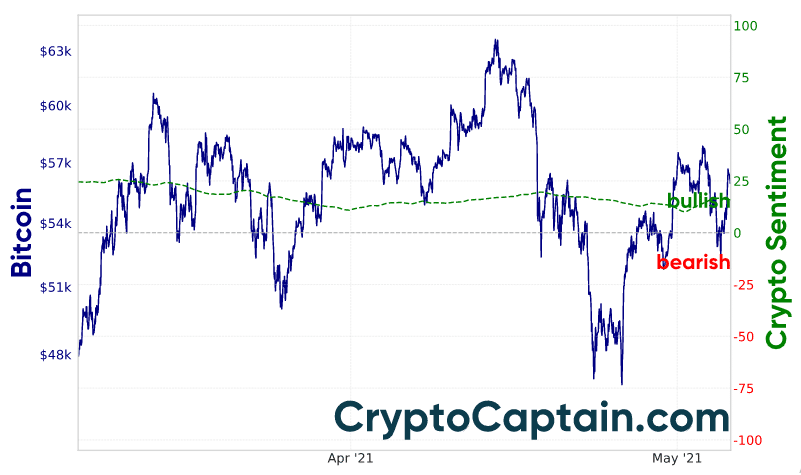 Decreasing bullishness over the course of a long bull run might signal that it runs a bit out of steam. However, the macro level bull market can still continue until the sentiment turns bearish.
Our market sentiment for Bitcoin's underlying fundamentals very much suggest "business as usual" for the largest cryptocurrency despite the recent upheaval.
Market Outlook
Despite Bitcoin being unable to maintain the necessary support for the April setup to take price more directly to the upper target. Bitcoin has shown some feisty resilience after breaking support in late April. However, BTC has formed an ambiguous structure from the February 28 low to the April 13 high. In simple terms, so long as that April 25 low holds (which is roughly $47k with some small variation ), the setup to higher targets is viable.
Early Bitcoin bull market buyers are still hodling strong, but short term trading increasing.
Will Bitcoin bullish path to an abrupt end?" – To be one of the first to know the answer, subscribe here to CryptoCaptain's premium buy and sell signals" Signup today