Yet another week of Bitcoin enacting it's dominance in the crypto world having managed to pull a bit up above the $37k region but seem to be ending the week in the red in a week it attained a high of around $40k. Will cleaner energy boost adoption of Bitcoin?

BTC/USD Weekly Chart. Source: Blockchain.com
Bitcoin had given some hope to traders at the start of the week as it surged above $37k, breaking a falling trend line that has been in play since the mid-May market crash but failed to overcome resistance at $40,765.
Elon Musk States When Tesla will Resume Accepting Bitcoin Payment
The discussion as to whether Tesla will accept Bitcoin in the near future found its way back into the Crypto space this week, with Tesla CEO responding says the company will start accepting Bitcoin payments once there's confirmation that miners are utilizing clean energy.
Popular cryptocurrency blog cointelegraph on Sunday tweeted about recent accusations from Magda Wierzycka CEO of Sygnia, who called on the United States SEC to investigate the billionaire for allegedly manipulating Bitcoin's price.
This is coming after Syngia CEO accused Musk of Musk intentionally pumping the price of Bitcoin only to sell a "big part of his exposure at the peak."
Russian Lawmaker Believes that the Russian Central Bank is 'Short-sighted' Regarding Crypto
Fedot Tumusov a long-time lawmaker of the Russian State Duma has lashed out the country's central bank over its stance on the cryptocurrency industry, says
"Short-sightedness can be costly for Russia. Cryptocurrencies are the reality. Either we will accept it, or we will lose."
Following a plenary meeting held on Tuesday the lawmaker representing the Siberian region of Yakutsk expressed his displeasure at the central banks approach to crypto regulation.
The lawmaker's remark came shortly after reports that top Russian private bank, Tinkoff could not offer crypto services due to the central banks regulations.
What Experts are Saying
In an interview with Cointelegraph journalist Rachel Wolfson during the Bitcoin conference in Miami, the CEO of Quantum Economics, Mati Greenspan shared some strong opinion about Bitcoin maximalists.
Mati Greenspan pointed out that Bitcoin maximalists are "small-minded and insecure,"
When asked about his current view on Bitcoin market, the CEO state that he is extremely bullish stating that there is a massive movement happening behind the scenes. Pointing out that a lot of the money being printed out by the federal reserve is going into Bitcoin.
When asked about his advice to newbies, Mati pointed out that the market can be a bit random in the short term and crypto assets can be quite volatile advising newbies not to invest more than they can lose and to ensure they diversify and get involved in many different projects as possible.
Confident that the big crypto selloff is slowing Panthera Capital CEO, Dan Morehead believes "we've seen the most of this panic".
A Bitcoin trend deviation chart on their monthly newsletter backed up this claim as it showed that the asset has only been this "cheap" relative to its trend for a fifth of its lifecycle.
What the Technicals are Saying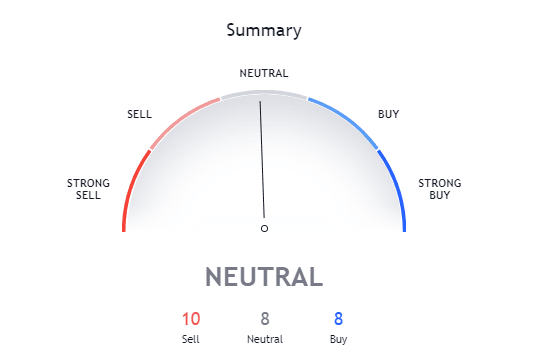 A look at the technical for the past 7 days shows a "neutral" trend.  According to TradingView's technical analysis, 8 of the 26 technical indicators are signaling "buy" while only 9 remains neutral, while 10 of the technical indicators signal "sell".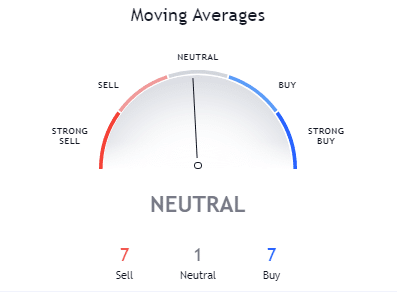 Just as the Technicals, Tradingview's weekly moving averages is notably seen to be indicating neutral at the moment.
Crypto Market Sentiment – 6% Bearish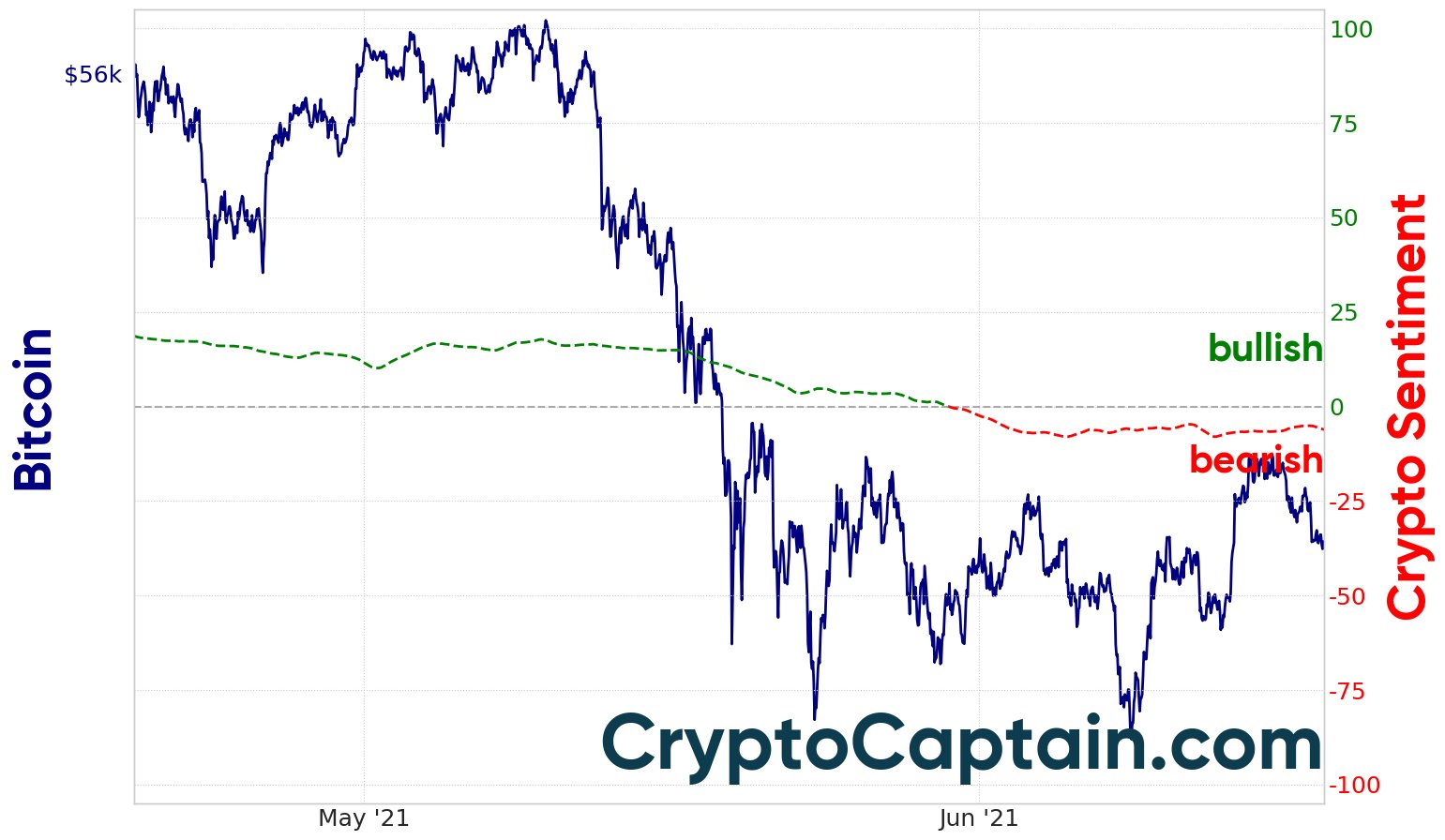 Crypto Market Outlook
Bitcoin, the flagship digital currency remains the ultimate enforcer in the crypto world. With governments, central banks, financial institutions, large investors, all after the digital currency, long-term market outlook are all positive. Therefore, remain determined to not be intimidated out of the market despite all that may be thrown at the market.
Would you also like to get an alarm when to get out next time before a crash happens ? 😉 Join today