Having broken a descending wedge pattern, Bitcoin surged up to an impressive 22% increase this week. The crypto giant reached its highest since June 15 this week. With a good surge in price, no doubt the bear was attacked but the bear sentiment remains strong prompting pro-traders to maintain an overall cautious outlook.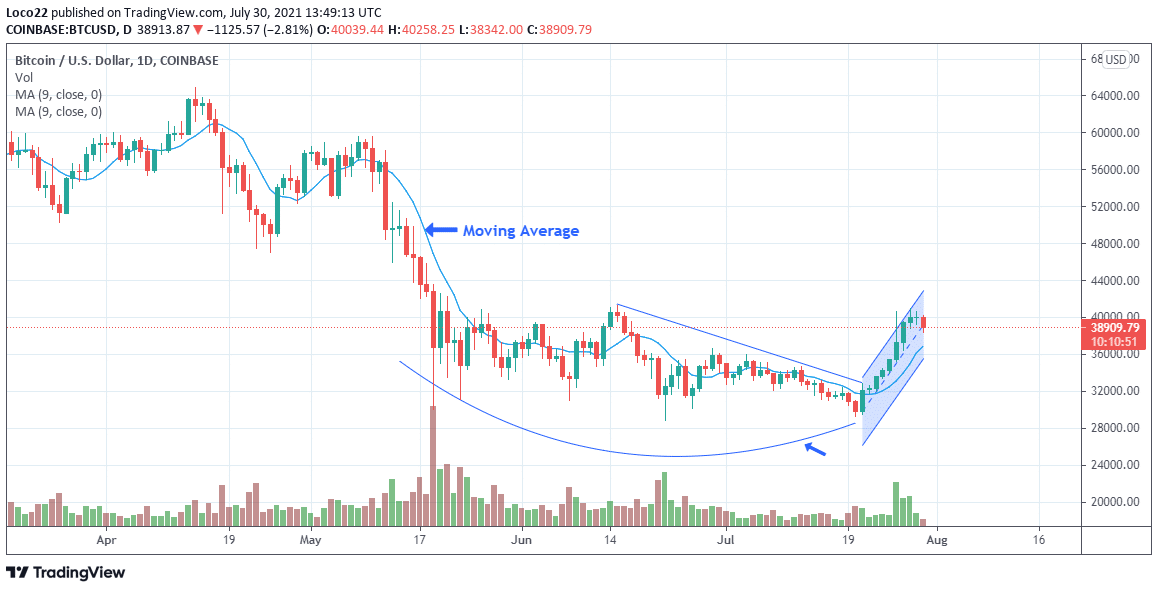 After enduring a long period in a descending curve, this week happens to be a promising one for Bitcoin as the flagship cryptocurrency finally got over both the 20 and 50 days MA and maintaining a well-shaped ascending price channel.
As the market sentiment seems to be switching towards ultra bullish, it is normal that traders are 'FOMOING' back into the market while expecting a breakout further towards the upside.
Amazon To Accept Bitcoin Payments This Year – Insider Claim
An 'anonymous' insider has made claims that the e-commerce giant Amazon is 'definitely' lining up Bitcoin payments.
It has been reported that an anonymous source within Amazon told London business newspaper City A.M. that the global marketplace giant is "looking to accept Bitcoin payments 'by the end of the year', and is investigating its own token for 2022".
The insider claims that Amazon had earlier published vacancies for the cryptocurrency and blockchain lead which has got tongues wagging. This vacancy is believed to be a clear signal that the e-commerce giant is making strides towards integrating cryptocurrency transactions, as the job description also calls for someone who can
"leverage domain expertise in blockchain, distributed ledger, central bank digital currencies and cryptocurrency".
According to the report, the insider who is believed to be a female executive stated that
"This isn't just going through the motions to set up cryptocurrency payment solutions at some point in the future – this is a full-on, well-discussed, integral part of the future mechanism of how Amazon will work,"
If the above report is true, a behemoth company like Amazon will boost the global adoption of Bitcoin. This news is a great development for Bitcoin price as it is tipped to make massive moves towards the upside.
Kazakhstan Government 'Planning' On Allowing Banks Process Crypto Purchases
Kazakhstan government continues its bullish actions on cryptocurrency activities within the country. This time around, the crypto regulatory body in the country is making it easier for citizens to make a purchase online using cryptocurrencies.
As reported by local news channel 24 Khabar, the Association of Blockchain and Data Center Industry told its correspondent that the government plans on making it easy for Kazakhstanis to invest in Bitcoin, sell on cryptocurrency exchanges and allow its citizens to convert crypto assets into "ordinary money"
With the primary aim of enabling local crypto businesses to "legally provide crypto investment services and allow investors to buy and sell cryptocurrencies like Bitcoin safely" this project is tipped to run for a year.
Local banking institutions in Kazakhstan are primed to benefit from the government's new crypto project.
This decision by the Kazakhstan government known for its favorable crypto laws is a good welcomed step towards bullish BTC.
What Experts Are Saying
Stack Funds, a provider and distributor of managed funds and crypto investment on Monday, called for "Cautious optimism" amongst traders. Coming at a point when Bitcoin attained the $40k mark after over six weeks of absence, Stack Funds, in its weekly market appraisal, made the call.
Stating, that regardless of the short-term price strength, a return to fresh lows is unlikely but the Bitcoin trend is yet to reverse as there is major resistance to break.
"Only when a clear break occurs, then we can safely say the Bitcoin trend has reversed."
the firm stated in the report.
@AltcoinPsycho has this to say;
What The Technicals Are Saying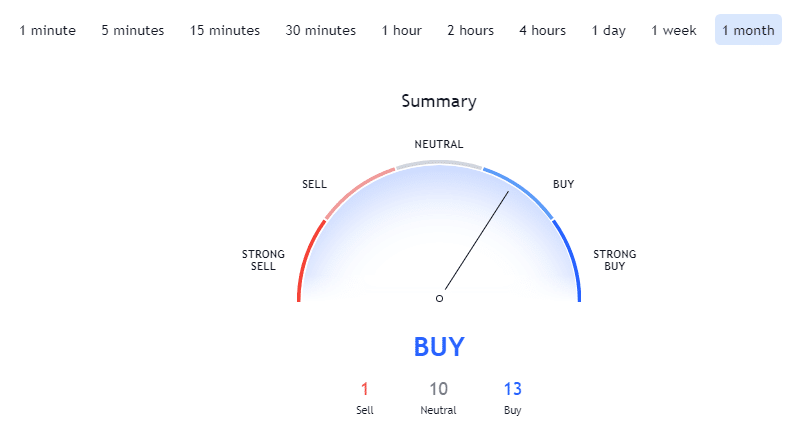 Trading View's technicals over the past month show it supports a 'buy' trend. According to Trading View's technical analysis, 13 of the 24 technical indicators are signaling "buy".  10 remain "neutral" while 1 of the technical indicators signal "sell". This is a great improvement. Despite the buy signal from TA, we trust in the efficiency of our AI-powered sentiment analysis.
CryptoCaptain Sentiment Analysis: 73
%
bearish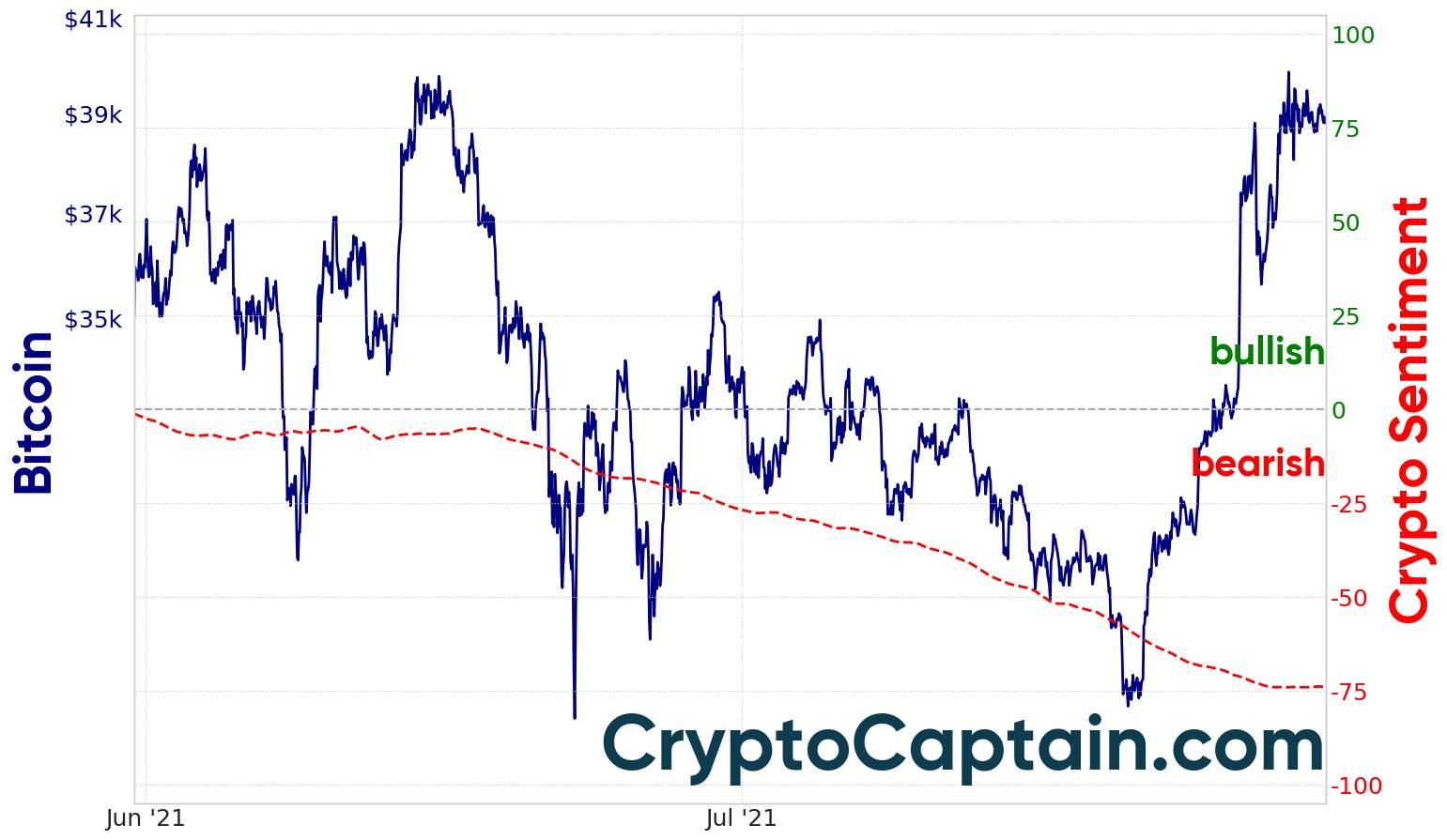 Despite a surge in price up to an impressive 22% increase, market sentiment remains bearish even though bear sentiment was rocked by bullish factors this week.
Crypto Market Outlook
BTC/USD is making a bold attempt to test new positions above the $40,000 handle. This week's rally should not be seen as a true reversal of market sentiment. As Bitcoin price is moving higher on a short-term basis, expect to see different forecasts. We however advise that investors play it safe to avoid falling into the trap that FOMOing into unverified forecasts brings.
If however you are looking for proper buy and sell signals building on years of analytical experience, subscribe to our signal service. Join today