The third week of Q4 sees Bitcoin finally breaking ATH and now officially going for fresh price discovery. This is a result of positive developments from the first-ever SEC-approved futures-backed Bitcoin ETF. Even though Bitcoin has charted a new ATH, It is still an early bullish signal, and not enough to fully confirm the breakout.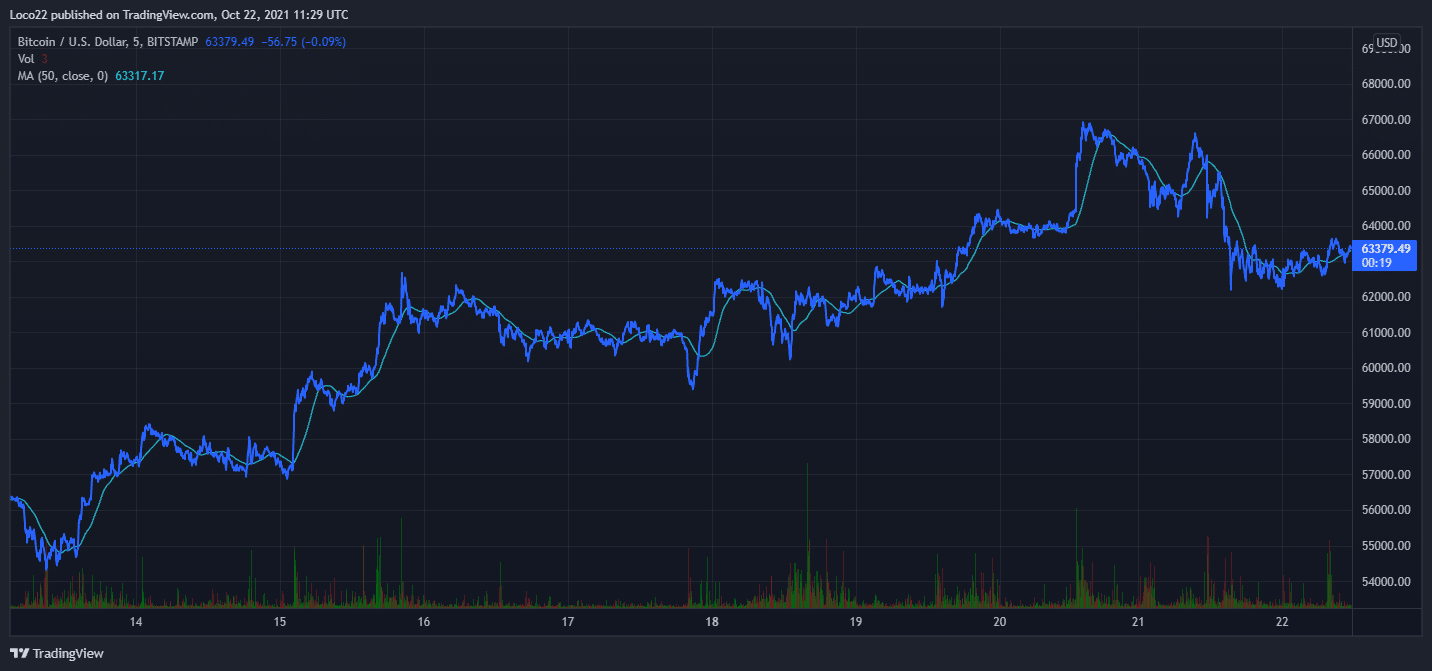 As at the time of putting this article together, the crypto giant is seen to have corrected to below the previous ATH of $64k as its volatile rollercoaster kicks in.
Altcoins also saw profits, with Ethereum expected to chart a new ATH, Shiba Inu, Solana appears to be amongst the biggest winners this week.
China Calls For Public Opinion On Bitcoin Mining Ban
Reports making the rounds have it that China may soon revoke her negative stance on Bitcoin and crypto mining.
In a press release made on Thursday, China's macroeconomic planning agency (China's National Development and Reform Commission) called for public opinion regarding the inclusion of crypto mining in its list of "phased-out" industries.
With a public consultation that is to span a month period (21 October – 21 November), the agency seeks relevant feedback from organizations and persons of all works of life living in China.
The move could imply that the Chinese government is reconsidering its tough stance on crypto mining having held a rigid stance for the past two years. This is coming after China's National Development and Reform Commission made a post on their official website about the United States replacing China as the dominant Bitcoin mining nation.
Bitcoin May Be The Best Hedge For Inflation – Carl Icahn
Billionaire investors and had on Tuesday warned that the market crisis is on the horizon and Bitcoin could be the best hedge against inflation.
Icahn while speaking with CNBC on Monday said;
"In the long run, we are certainly going to hit the wall. I really think there will be a crisis the way we are going, the way we are printing money, the way we are going into inflation. If you look around you, you see inflation all around you, and I don't know how you deal with that in the long term,"
Carl Icahn's statements were in harmony with Federal Reserve Chair Jerome Powell, who outlined that inflation was rising along with supply issues. Icahn believes that cryptocurrencies  (particularly Bitcoin) may be worth exploring as an alternative to investing in the stock market.
Billionaire CEO of Tudor Investment Corporation, Paul Tudor Jones also shares a similar opinion with Icahn as seen on CryptoPotato. Tudor opined that Bitcoin is superior to Gold as an inflation hedge.
What Experts Are Saying
Michael Van de Poppe shared;
Digital currency expert with Twitter handle @TheMoonCarl opined;
What The Bitcoin Technicals Are Saying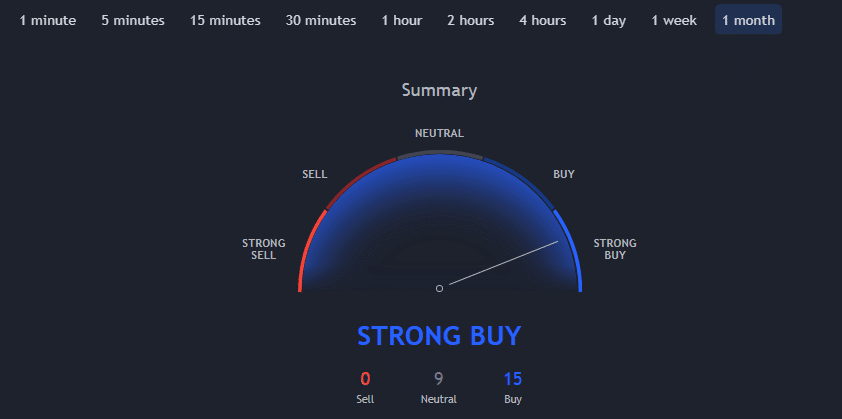 Trading View's technicals over the past month show it supports a ' Strong Buy' trend, a very bullish signal for the first time in months. According to Trading View's technical analysis, 15 of the 24 technical indicators are signaling "buy".  9 remain "neutral" while none of the technical indicators signal "sell". The technicals have maintained a positive outlook for weeks now and are still expected to remain so in the coming weeks.
CryptoCaptain Sentiment Analysis: 31
% Bullish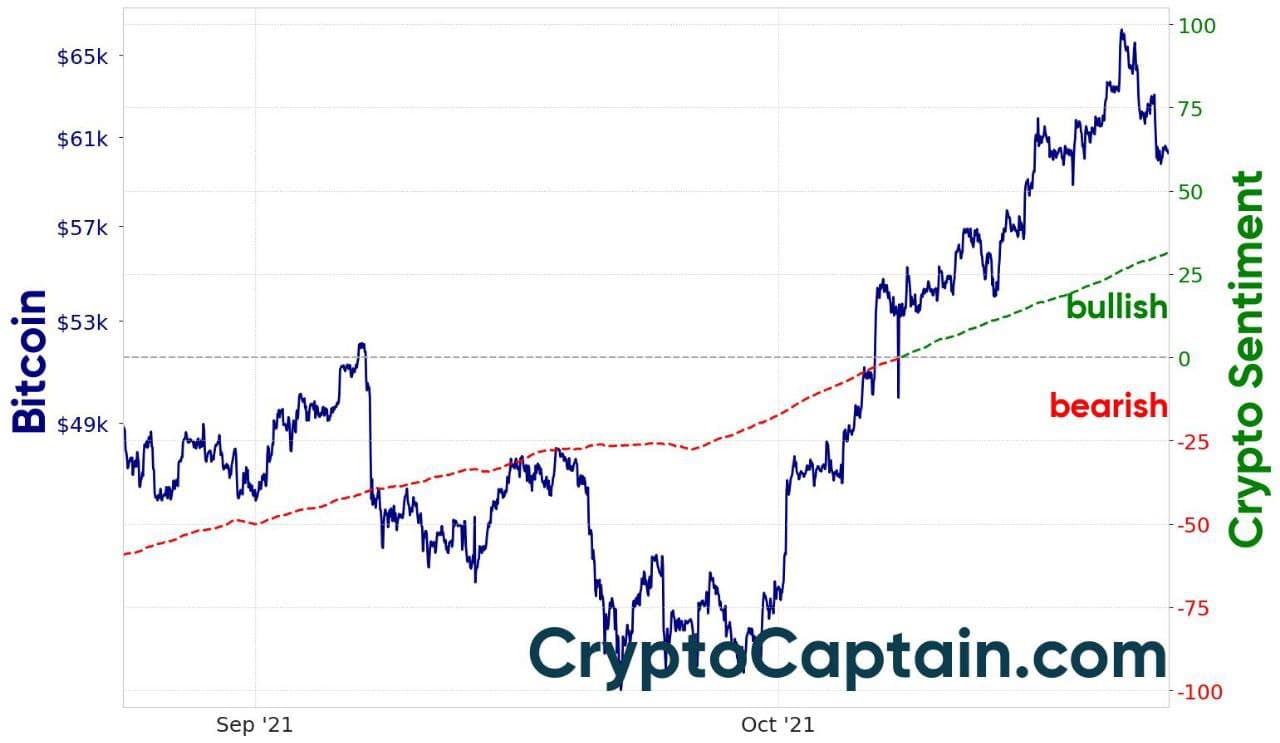 A very bullish market as signaled on our market sentiment chart, Bitcoin reached new ATH this week. Shattering the previous ATH of $64k, the bear has caused Bitcoin to take a dip. This correction is believed to last for the short term as the market remains very bullish.
Conclusion And Outlook
On Wednesday, we witnessed a new all-time high for Bitcoin around $67k. In the meantime, it took a dip to $61k. When you consider the run from $40k to $67k without any major break, that seems perfectly reasonable, given that any major bull run is intermitted by these 10 to 20% dips. So for the near term, we might see some further consolidation. Holding the area between $57k to $59k as support can be regarded as a sign for bullish continuation over the course of Q4.
Now, what reasons are there to still be bullish? CryptoCaptain's market sentiment is bullish and has been rising for weeks and continues to do so. Looking at Google Trends, the interest in Bitcoin is still low by retail, so many retail investors lost interest during the little bear summer and then they thought the uptrend launched in September would be a trap. In the meantime, institutional investors had been accumulating crypto and storing it for longer holding periods in their cold wallets. And there are many reasons to do so like inflation kicking in and crypto offering a deflationary store of value – and continuing adoption of crypto like the recent ETF approvals. Now, once Bitcoin surpasses the ATH, media attention and public interest will be raised again on the retail side, driving the price up.
Currently, Bitcoin valuation is not at extreme levels, giving quite some space for price discovery. Therefore, I expect an overall bullish Q4 and Q1 2022 with Bitcoin reaching at least $90k. During every bull run, after Bitcoin has led the way up, altcoins will follow and can make their large runs, giving potentially higher returns than Bitcoin.
But on the way down after the blow-off top, they fall even faster and deeper. So, it's wise to regularly take profits off the table on the way up – or rely on CryptoCaptain's signals for timing the market. As in the general market, most coins' price movements are correlated to a high degree, CryptoCaptain's sell signal can be applied to any altcoin as well, giving you a high level of comfort and safety when investing in these speculative assets.
Looking for proper buy and sell signals building on years of analytical experience? Subscribe to our signal service. Join today