Bitcoin has maintained an impressive price rally over the past couple of days, currently aims at a potential new ATH in the coming days. With near-term technicals being slightly cautious, Bitcoin maintains a bullish trend.

After 6 months of hiatus, Bitcoin is on the verge of hitting $60k levels. Hours after good reports of the US SEC green-lighting Bitcoin ETF Futures early next week, Bitcoin made over $3k, hitting the $60k levels for the first time since May. The Bulls keeps matching strong after retracing from around $54k two days ago, claiming back and above the $58k price levels, it tested early in the week.
On-chain data solidly backs the narrative that, Bitcoin is a different beast in quarter 4.
SEC To Allow Bitcoin Futures ETF Trade Next Week
The US Securities and Exchange Commission is reported to have finally given a green light for the first Bitcoin Futures ETF to begin trading on Monday next week. Bloomberg has reported that the US SEC has changed its year-long negative stance on BTC ETF having rejected many applications for an exchange-traded fund tracking the performance of bitcoin in the past.
Bloomberg senior ETF analyst Eric Balchunas shared an optimistic view that this approval is likely to be the first of many to come.
The news of the approval is seen to be having a positive impact on BTC and altcoins price as a whooping $3k has been added to Bitcoin price, pushing the cryptocurrency giant towards a new ATH.
G7 Financial Leaders Issue CBDC Guidelines
Group of Seven advanced economies popularly known as the 'G7'  on Wednesday issued guidelines for Central bank digital currencies (CBDC). The G7 finance leaders said that any digital currency issued by a central bank must "support and do no harm" to the bank's ability to fulfill its mandate on monetary and financial stability, and must also meet rigorous standards.
The G7 finance leaders in a statement outlined the minimum requirement for Central bank digital currencies;
"Any central bank digital currency (CBDC) should be grounded in long-standing public commitments to transparency, rule of law and sound economic governance,"
Central bank digital currencies (CBDC) are only to complement cash and could act as an anchor for payment systems.
What Experts Are Saying
Michael Van de Poppe of Cointelegraph tweeted;
Twitter user @nakamoney tweeted;
https://twitter.com/nakamoney/status/1449027889022832656?s=19
What The Bitcoin Technicals Are Saying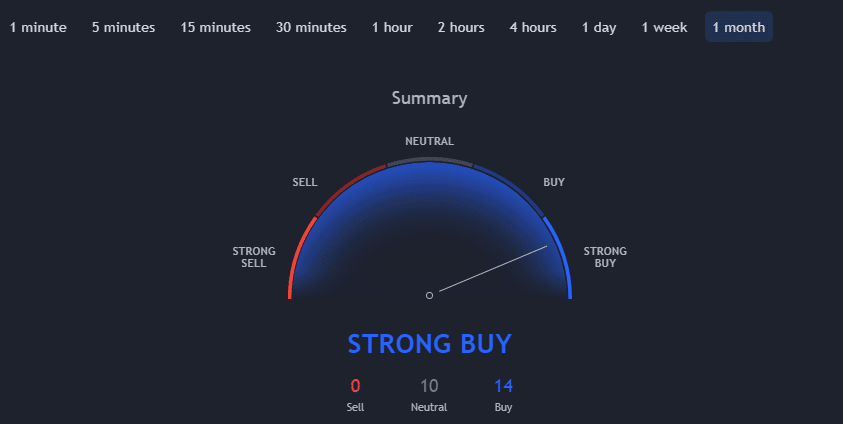 Trading View's technicals over the past month show it supports a ' Strong Buy' trend, a very bullish signal for the first time in months. According to Trading View's technical analysis, 14 of the 24 technical indicators are signaling "buy".  10 remain "neutral" while none of the technical indicators signal "sell". The technicals have maintained a positive outlook for weeks now and are still expected to remain so in the coming weeks.
CryptoCaptain Sentiment Analysis: 15
% Bullish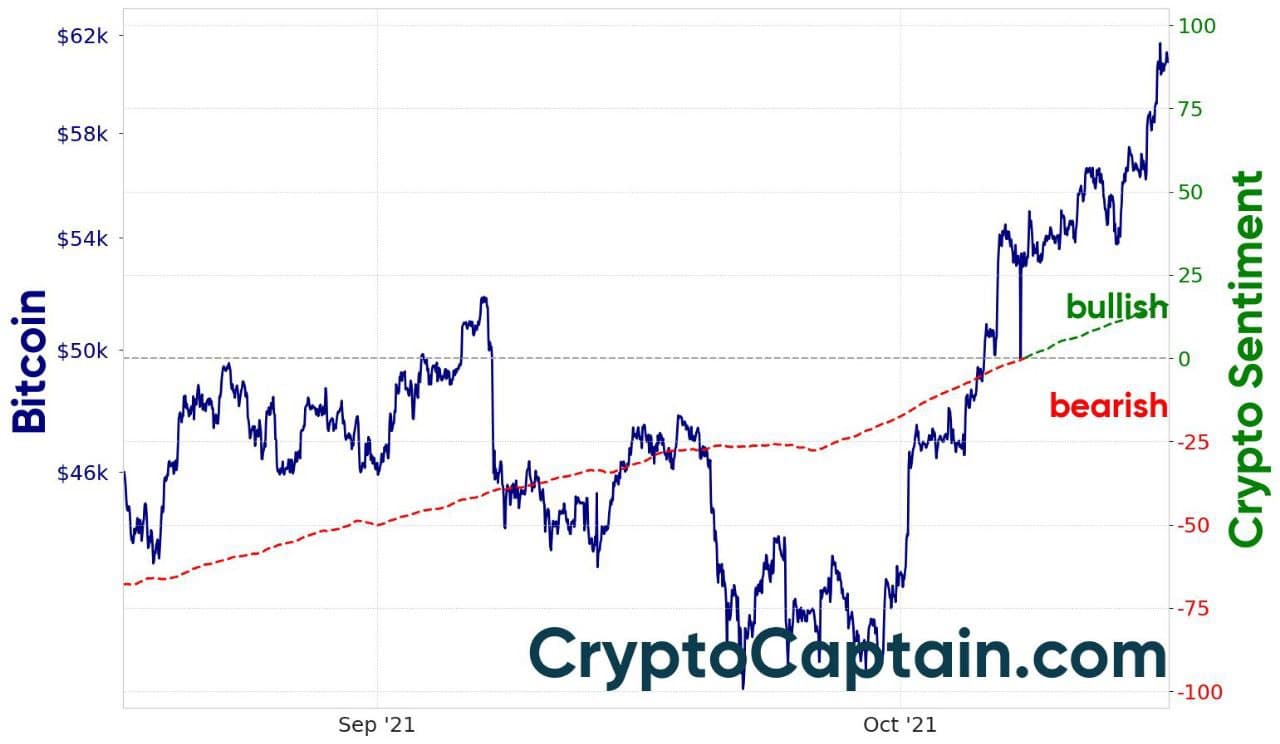 With the reports of the approval of Bitcoin futures ETF, the bulls should be set to celebrate further as this is considered a major win for the entire crypto community.
Conclusion And Outlook
Another bullish week for crypto comes to an end. Bitcoin cracked the $60k mark and even climbed to $62k. CryptoCaptain's market sentiment has been also becoming more and more bullish every day. A major driver for bullishness in crypto has been the expected approval of a Bitcoin ETF by the SEC and the subsequent listing on a US stock exchange. Although it is an ETF backed by futures and not actual spot Bitcoin, it would have a large impact.
The expected impact would be;
Retail would have better and easier access to crypto exposure,
They would not need to own a wallet or crypto exchange account and they would not need to take care of taxes on crypto assets,
Retail could even add the ETF into a pension plan. On the other hand,
A futures-backed ETF is not so interesting for institutional players who already have direct access to futures.
Now, the question is, whether we observe a buy the rumor, and sell the news event once the ETF gets listed. Some analysts also doubt that the impact of the ETF will be strong enough to trigger a price rally to a similar extends as one year ago in Q4 of 2020. Nonetheless, from a technical perspective, price action perspective, and sentiment perspective, we witness (and hopefully profit from) a strong and intact uptrend.
As predicted in our last week's report, ETH has now also picked up steam and heads towards $4k but faced resistance there and some profit-taking. So it might take some attempts and time to sustainably crack the $4k mark and to trigger a new impulse wave towards $6k or $8k. Similar to Bitcoin, a helping agent might be also the approval of an ETF for ETH in the US. As ETH is the largest altcoin, ETH's uptrend in USD signals that smaller altcoins will most likely follow suit, even though we might have to wait a couple of weeks until this unfolds. Historically, December has been usually a good month for altcoins. So, for next week, it's still Bitcoin's stage.
Looking for proper buy and sell signals building on years of analytical experience? Subscribe to our signal service. Join today