Bitcoin marked its highest price climb since mid-May this week with a number of altcoins following suit. Approximately a week ago, Bitcoin struggled below $45k price but impressive gains adding up to 35% in value, this week sees Bitcoin reaching for new ATH.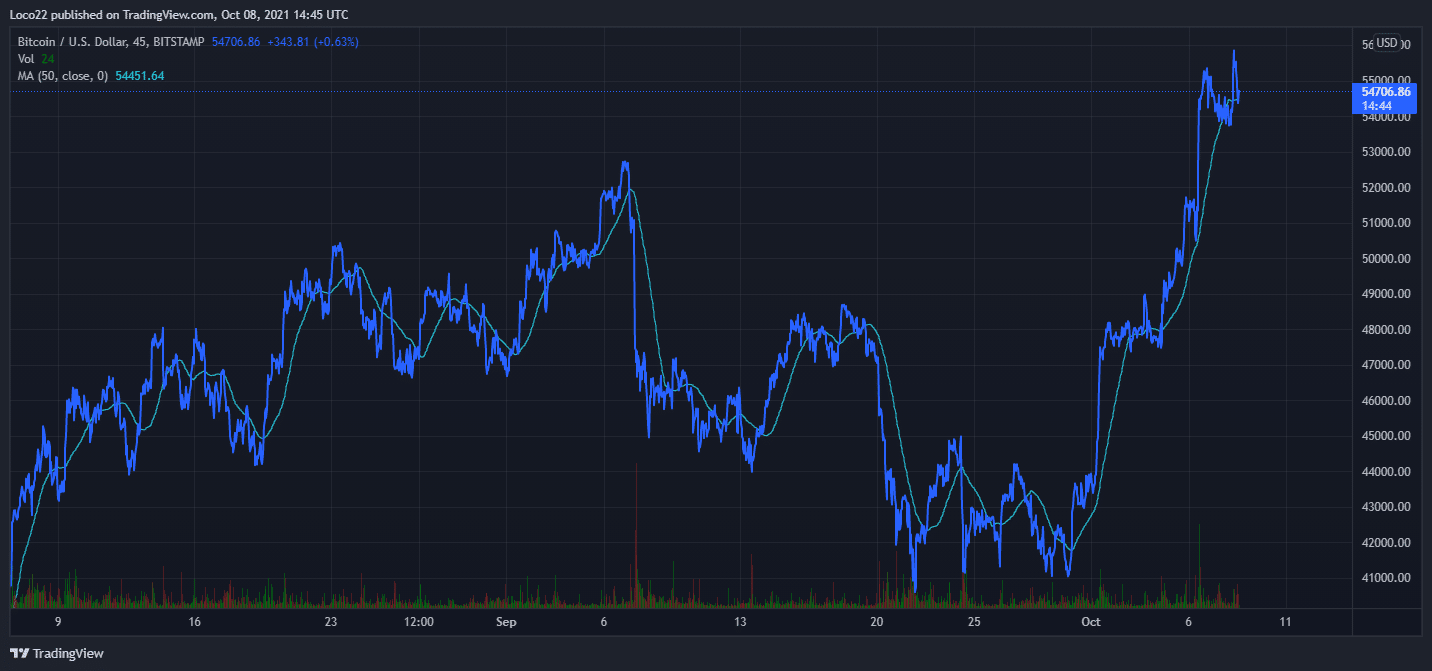 Q4 started on a good note when Bitcoin broke above a descending price channel to go above the 50-day MA. Since then, Bitcoin price has surged even higher particularly this week. Bitcoin has also seen its market dominance go higher as it recovers more grounds while regaining the coveted $1 trillion market cap.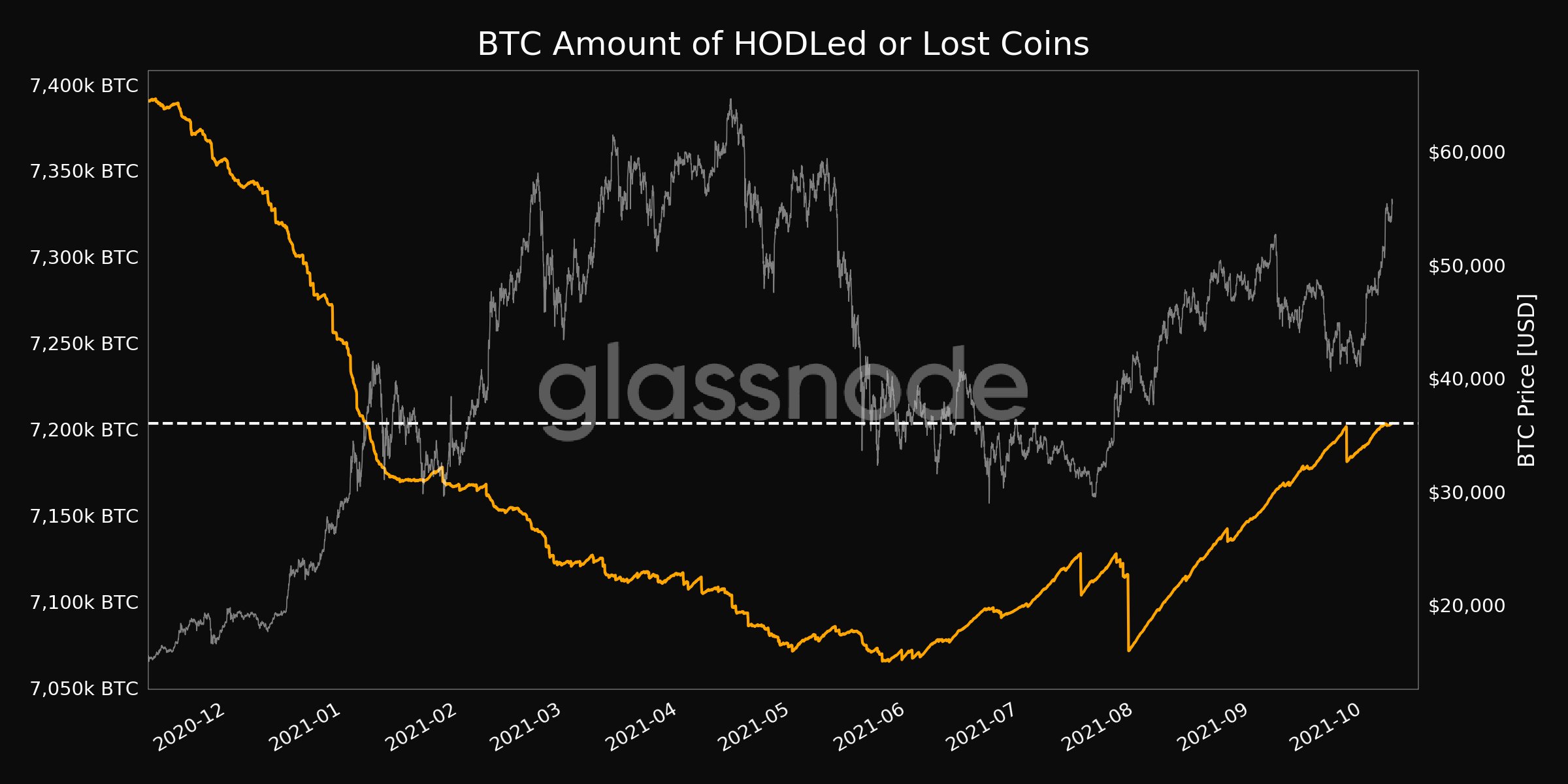 On-chain analysis shows that long-term holders and the miners who control most of the supply are accumulating further pushing the market to a more bullish region. Data from Glassnode show that the proportion of BTC supply that is either Hodled or lost for good is at its highest in nine months and has particularly seen a raise this week.
Indian Crypto Exchange Kuber Raises $260M
Major crypto exchange company in India, CoinSwitch Kuber is joining the unicorn club having raised $260 million in a Series C funding round.
CoinSwitch Kuber is now reportedly the most valued crypto company in India at $1.91 billion and also India's biggest unicorn.
According to co-founder and CEO Ashish Singhal, CoinSwitch Kuber plans to onboard 50 million Indians on the platform and introduce new services like lending and staking. The crypto exchange company also expects to integrate institutional-grade product as well as support more diverse investment options for her users.
The SEC Has No Plans to Follow China and Ban Bitcoin – Gary Gensler
Gary Gensler, U.S SEC Chair speaking at the House Financial Services Committee hearing on Tuesday stated that the U.S financial regulator has no plans to outrightly ban Bitcoin in the country.
At lastweek's committee hearing, Federal Reserve Chair Jerome Powell echoed the sentiment stating that the central bank had no plans to ban crypto, this week sees Gary Gensler, U.S SEC Chair following suit. This is to reiterate that the US are taking the opposite direction as against what the world's most populous nation, China is doing.
While responding to congress concerns about matters relating crypto anti-money laundering and tax compliance frameworks, Gary stated that;
"It's a matter of how we get this field within the investor consumer protection that we have, and also working with bank regulators and others."
News of the SEC support of the cryptocurrency giant is believed to be a factor is Bitcoin's spike in price this week.
What Experts Are Saying
Rekt Capital has this to say about Bitcoin performance and historically the month of October;
Will Clemente shared this;
What The Bitcoin Technicals Are Saying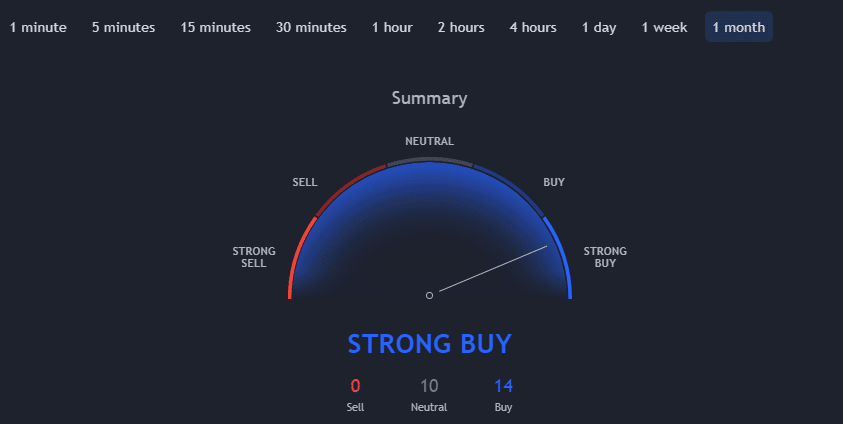 Trading View's technicals over the past month show it supports a ' Strong Buy' trend, a very bullish signal for the first time in months. According to Trading View's technical analysis, 14 of the 24 technical indicators are signaling "buy".  10 remain "neutral" while none of the technical indicators signal "sell". The technicals have maintained a positive outlook for weeks now and are still expected to remain so in the coming weeks.
CryptoCaptain Sentiment Analysis: 2
% Bullish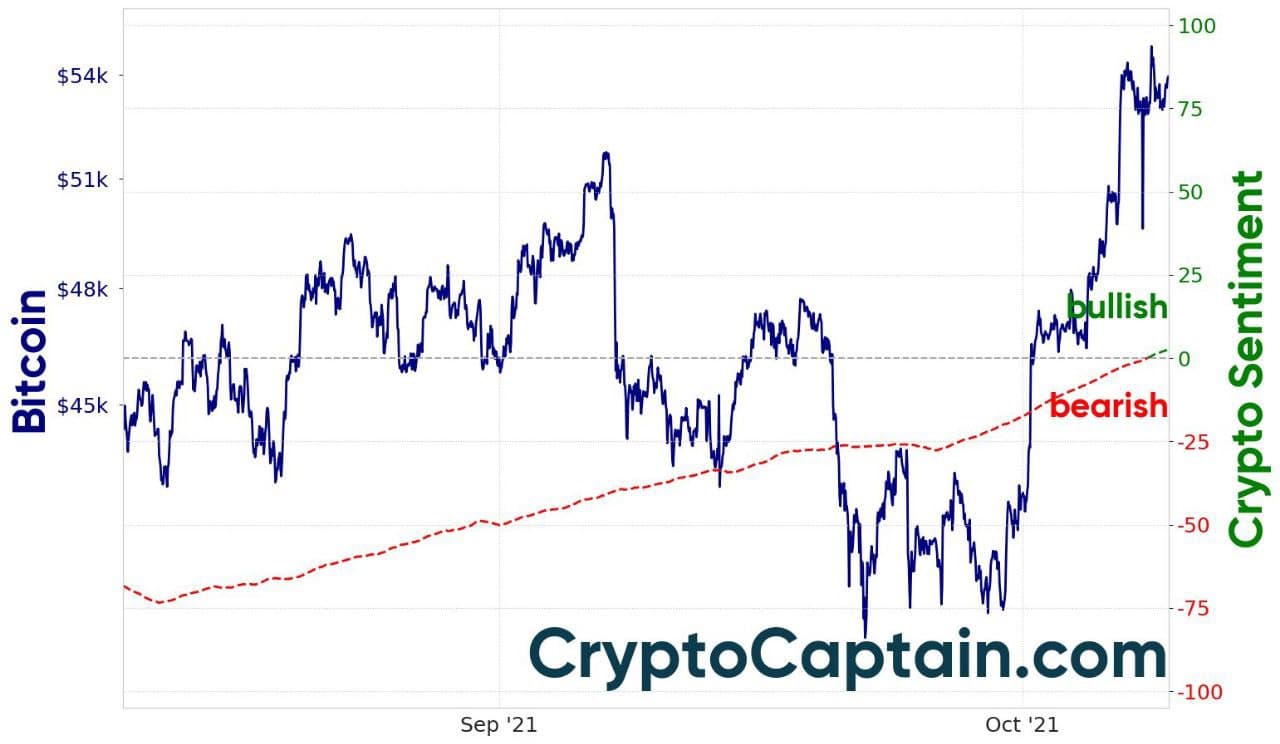 The crypto market digested all the negativity around it last week and has taken to the upward trend this week reaching up to $56k this week, its highest since mid-May. From our sentiment curve, the bulls have finally "zeroed" out the bears and are expected to maintain the uptrend.
Conclusion And Outlook
This week has been a very bullish one for the crypto market. CryptoCaptain's crypto market sentiment returned to a bullish level, signaling the entry into a prolonged bull phase. Before this background, Bitcoin returned to $50k where it had broken down in May and it even cracked the resistance. Furthermore, Bitcoin hit again the $1 trillion market cap. Potentially it is the start of the last phase of the bull market that began one year ago in fall 2020. In this line of thinking, this summer has been an intermediate dip.
During the next weeks, Bitcoin is assumed to be heading to its all-time high at $64k. A major catalyst seems to be the approval of a Bitcoin ETF in the US. Also, the adoption of crypto in use cases is expected to increase. Popular models like stock-to-flow then predict a 6 figure price for Bitcoin, which might be seen the end of this year or in early 2022. Of course, some dips in between would be very natural. Assuming the thesis of a bull market, dips would be buying opportunities.
However, for investors who are still on the sidelines, waiting for such a dip, like a dip to $45k when Bitcoin was around $50k over the dip to $50k when Bitcoin surpassed $50k this week, might never see those dips because the bulls are so strong, driving prices higher without the expected dip. Nonetheless, the next resistance at $60k or $64k might bring an opportunity for the market to take a breath and retrace a little.
Due to Bitcoin's strength, the king leads the market, and money flows from altcoins to Bitcoin, in anticipation of further gains. However, when Bitcoin starts consolidating, other coins will follow the path of Bitcoin. For this reason, if one missed the early move of Bitcoin, there are still chances waiting in other coins.
Looking for proper buy and sell signals building on years of analytical experience? Subscribe to our signal service. Join today