This week we see bearish pressures mount against Bitcoin price dropping the digital currency giant to below April ATH and with even more probability of sharp short-term pullbacks. Bitcoin registered two consecutive ATH latest being in the region of $69,000 on the 10th of November. The landscape changed afterward, with the crypto assets plummeting downwards.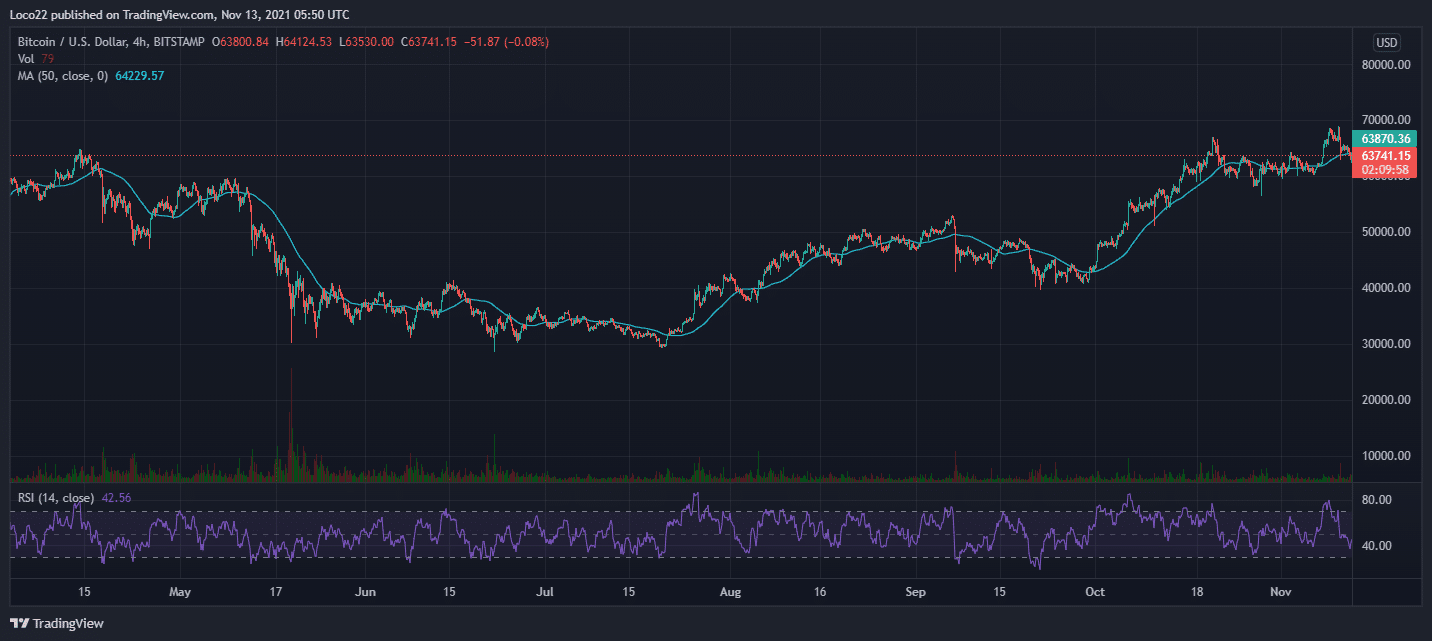 Bitcoin price is seen to continue to weaken, following a shakeout of weak hands on November 10.

With the Bitcoin market cap losing upto $100 Billion in the last 24 hours, the bears seem to still have their way in the market having pushed Bitcoin below April's ATH this week, with most altcoins in red. The price went down south the same day it attained a new ATH of $69k while the crypto community was anticipating a run-up to $70k, BTC price closed the day in the $63k region.
Miami To Distribute Free Bitcoin To Its Resident Thanks To Success From City Coin Investment
Miami's Cryptocurrency-loving Mayor, Francis Suarez announced that his department is working on a program to give out free Bitcoin to the City's residents thanks to profits made from, all as part of establishing Miami as America's biggest crypto hub.
Miami Coin is a cryptocurrency that is developed with the aim of boosting the city's development by financing strategic projects. During an interview with Christine Lee of CoinDesk TV, Mayor Francis said that they have made raised about $21 million from the sale of Miami Coin tokens, people basically buy the tokens, stake them to earn rewards.
The Mayor further outlined plans to distribute Bitcoin to residents from the yield made from Maimi Coin. In his words,
"We're going to create digital wallets for our residents, and we're going to give them Bitcoin directly from the yield of MiamiCoin."
Mayor Francis' enthusiasm and bullishness on Bitcoin can as well help establish Miami as America's number one crypto-hub.
Bitfarms Plans Green Crypto Mining Operations, Expands To The US
Canadian Bitcoin mining giant Bitfarm has made known its plans to expand to the United States by building its first US-based data center (in Washington) with the aim of establishing mining operations within the United States, hence diversifying its mining portfolio.
Bitfarm looks to establish full hydroelectric energy-powered mining rigs with the capacity to mine up to 620 petahashes per second using 6,200 Bitmain rigs. The mining firm obtained a 24 Megawatts hydropower farm in Washington to begin its mining operation.
Emiliano Grodzki, CEO of Bitfarms stated that the US capital Washington met all of the firm's criteria, pinpointing cost-effective and efficient power supply as the reason why the firm chose Washington.
Bitcfarm's Chief Mining Officer Ben Gagnon explained that "The facility's hydropower is expected to cost approximately 25% less than the average cost of power at our Québec farms, making it the most cost-effective source of power currently in our portfolio and reducing our corporate-wide average to below 4 US cents/kWh…"
At the time of putting this together, Bitfarms currently has 10 farms in operation or under construction in different countries including Argentina, the United States, and Canada.
What Crypto Experts Are Saying
Following SEC rejection of VanEck's spot Bitcoin, ETF Michael van de Poppe aired his opinion via the tweet below, though Michael affirmed that 'rejection' is standard, he believes the effect (a correction) is an opportunity to buy cheaper assets.
Pointing to the fact that Bitcoin made 2nd higher high and the 3rd higher low, analyst with Twitter handle @Ventureholder tweeted that Bitcoin pullback to the region of $57k-$61k is an 'excellent buy zone'
CrytoQuant Author and Contributor on Crypto potato, Daniel Joe has this to say;
What The Bitcoin Technicals Are Saying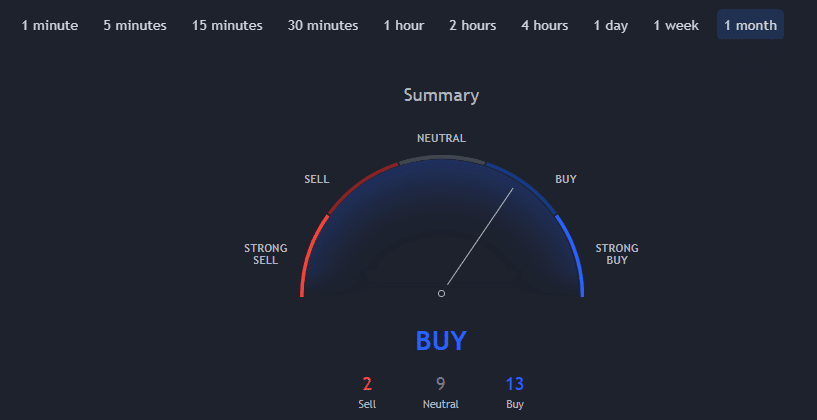 Trading View's technicals over the past month show it supports a ' Strong Buy' trend, a very bullish signal for the first time in months. According to Trading View's technical analysis, 15 of the 24 technical indicators are signaling "buy".  9 remain "neutral" while none of the technical indicators signal "sell". The technicals have maintained a positive outlook for weeks now and are still expected to remain so in the coming weeks.
CryptoCaptain Sentiment Analysis: 74
% Bullish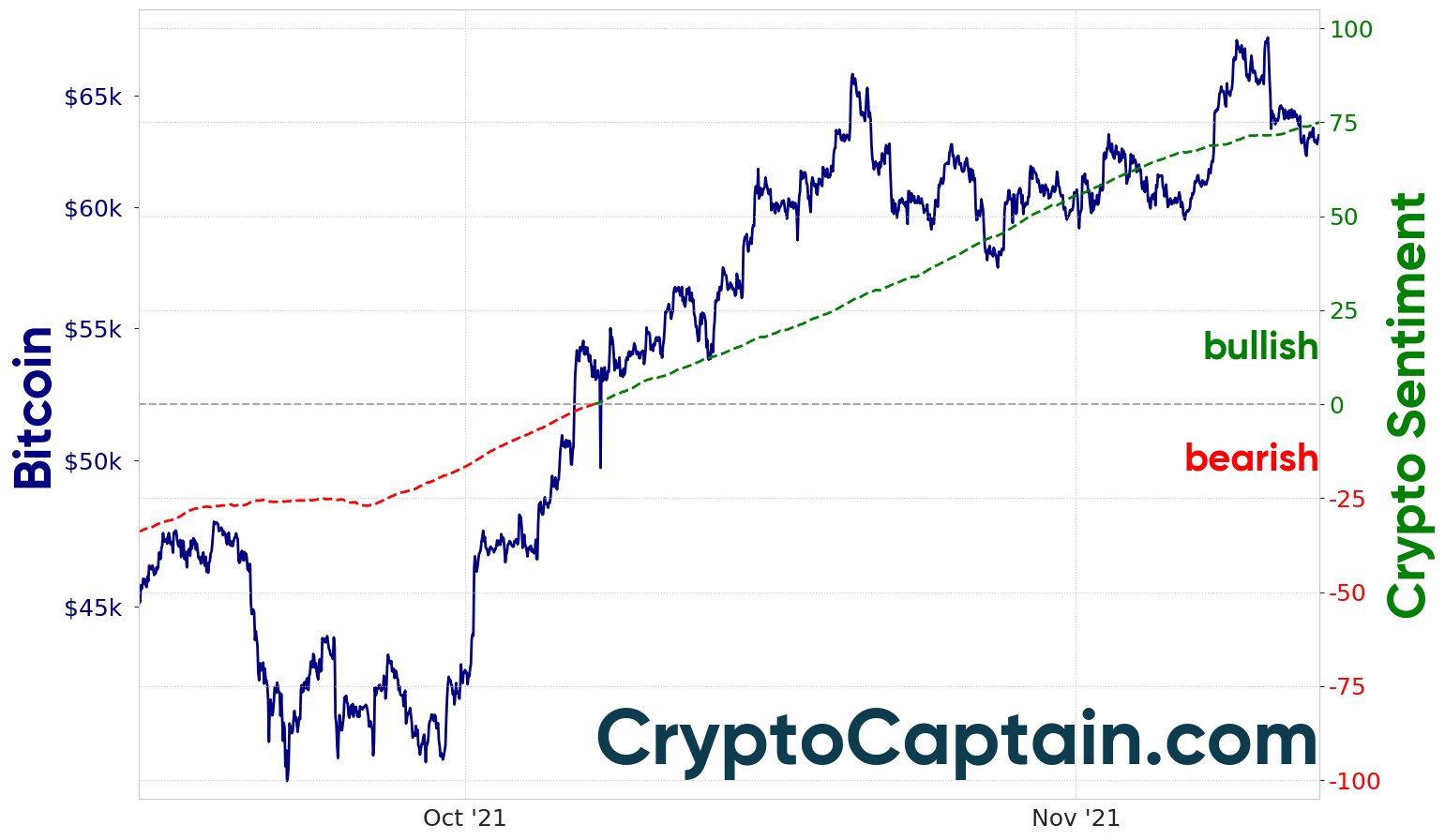 Bitcoin tested fresh ATH this week and is currently consolidating around the $64k region, our market sentiment chart remains very bullish despite minor bearish elements lingering around the market.
Conclusion And Outlook
The crypto market started in bull mode this week with Bitcoin peaking at $69k. Since then, most coins retraced and Bitcoin consolidates now around the $64k level. This drop spurred panic in some inexperienced crypto traders. However, I think, we are far away from a bear market. Just have a look at CryptoCaptain's sentiment which is 74% bullish today – a very high level for that measure.
$64k marked April's all-time-high of Bitcoin, on which Bitcoin currently rests and seems to have found support. A possible further dip to $60k is nothing to worry about. Every bull run shows intermittent phases of consolidation. Most analysts (myself included) expect the best is yet to come in this bull market. I prefer to stay calm and hold onto my positions.
According to the stock-to-flow-cross-asset model, Bitcoin could reach $288k in this bull cycle. However, some market participants say that this narrative will be used by institutions to push prices for dumping on late-coming FOMO retailers.
When considering some altcoins like Polkadot (DOT) or Solana (SOL), the dip might have been deeper compared to Bitcoin. But that's something fully expected.
In the meantime, Ethereum (ETH) shows a bit more strength than Bitcoin and resides at around $4600. An upcoming price target of $5000 seems viable pretty soon.
Looking for proper buy and sell signals building on years of analytical experience? Subscribe to our signal service. Join today