Following a sudden crash to the $56k region this week, Bitcoin has regained over $4k in the last 24 hours with ETH also painting a new ATH at $4,400. BTC is still in the corrective phase while ETH seems to garner all the attention and out-performing BTC in the short term.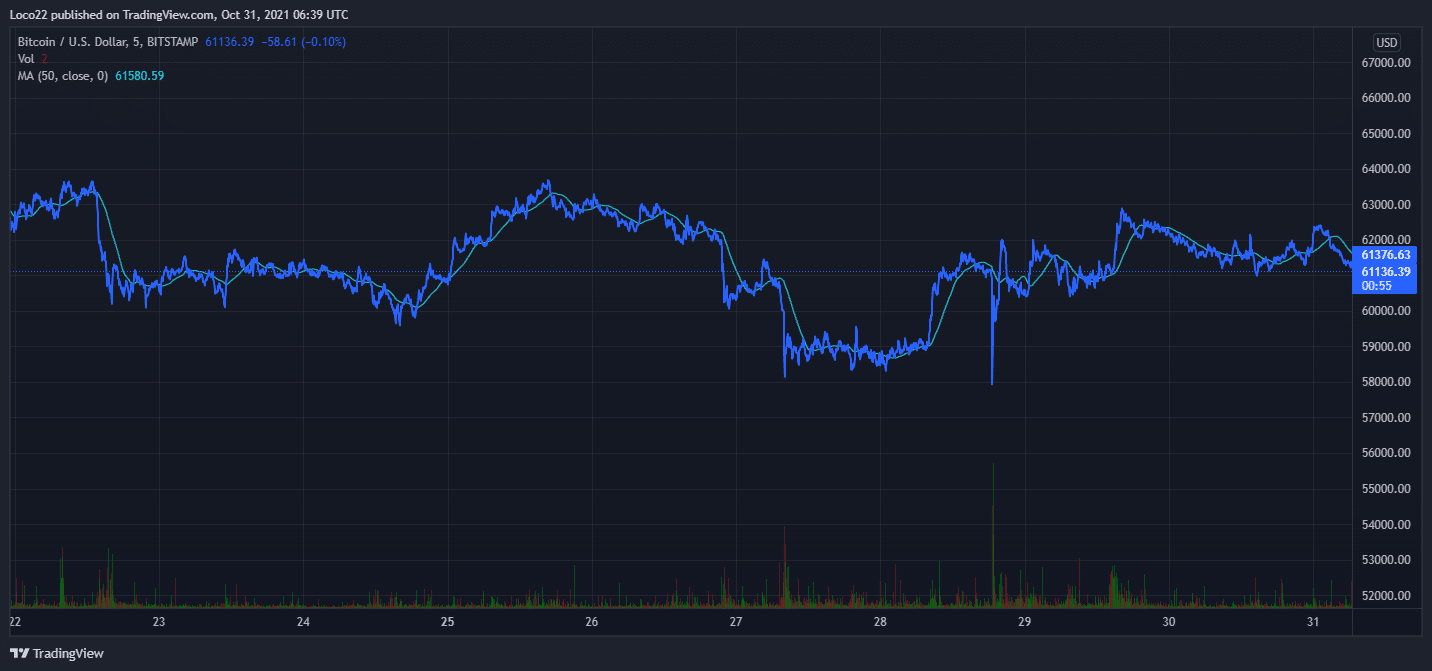 Despite the short-term weakness, BTC remains in a bullish term. The current correction can be considered a shakeout all in preparation for higher moves. This dip makes the market structure much more sustainable in that overextended rallies tend to lead to larger drawdowns.
Indian government considering regulating crypto as a commodity rather than a currencies
Reports have it that the Indian government is considering regulating cryptocurrencies within its shores.
Business day reported on Tuesday that officials from the Indian Finance Ministry are looking at setting up a legal framework that governs the use of cryptocurrencies veering away from initial plans of an outright ban. Officials of the Finance Ministry said that the new law will reflect on the 2022 budget of the country and will most likely treat cryptocurrencies as an 'asset' class like commodities instead of a currency.
The country's Finance Ministry is working closely with the Reserve Bank of India, or RBI, to fine-tune the new framework.
Tesla hints at a possibility of resuming support for crypto payments
Following months after it stopped accepting payments in crypto, Tesla hints at resuming support for crypto payment.
In a September report the electric car firm submitted to the United States Securities and Exchanges Commission, the firm outlined that it "may in the future restart the practice of transacting in cryptocurrencies,". In the filing, the company also affirmed its belief that crypto will in the long term be a better store of value.
"We believe in the long term potential of digital assets both as an investment and also as a liquid alternative to cash."
Recall that Tesla accepted Bitcoin as a payment for its car but stopped due to criticisms it faced from the media regarding the negative impact of Bitcoin on the environment.
What Experts Are Saying
Crypto expert @CryptoCapo tweeted;
Elsewhere, El Salvador keeps buying the dip;
https://twitter.com/nayibbukele/status/1453461587948445697?t=DDY9GT1lG9wwOoPq0m_COQ&s=19
Crypto expert with Twitter handle @DaanCrypto called for focus as Bitcoin will be heading even higher;
PlanB has this to say;
https://twitter.com/100trillionUSD/status/1454039384915910656?t=SWECiVYbu9DZ7j-eGcbB0Q&s=19
What The Bitcoin Technicals Are Saying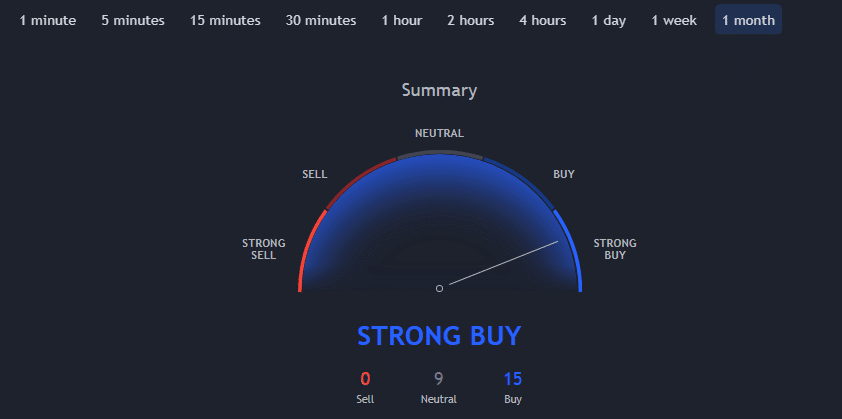 Trading View's technicals over the past month show it supports a ' Strong Buy' trend, a very bullish signal for the first time in months. According to Trading View's technical analysis, 15 of the 24 technical indicators are signaling "buy".  9 remain "neutral" while none of the technical indicators signal "sell". The technicals have maintained a positive outlook for weeks now and are still expected to remain so in the coming weeks.
CryptoCaptain Sentiment Analysis: 51
% Bullish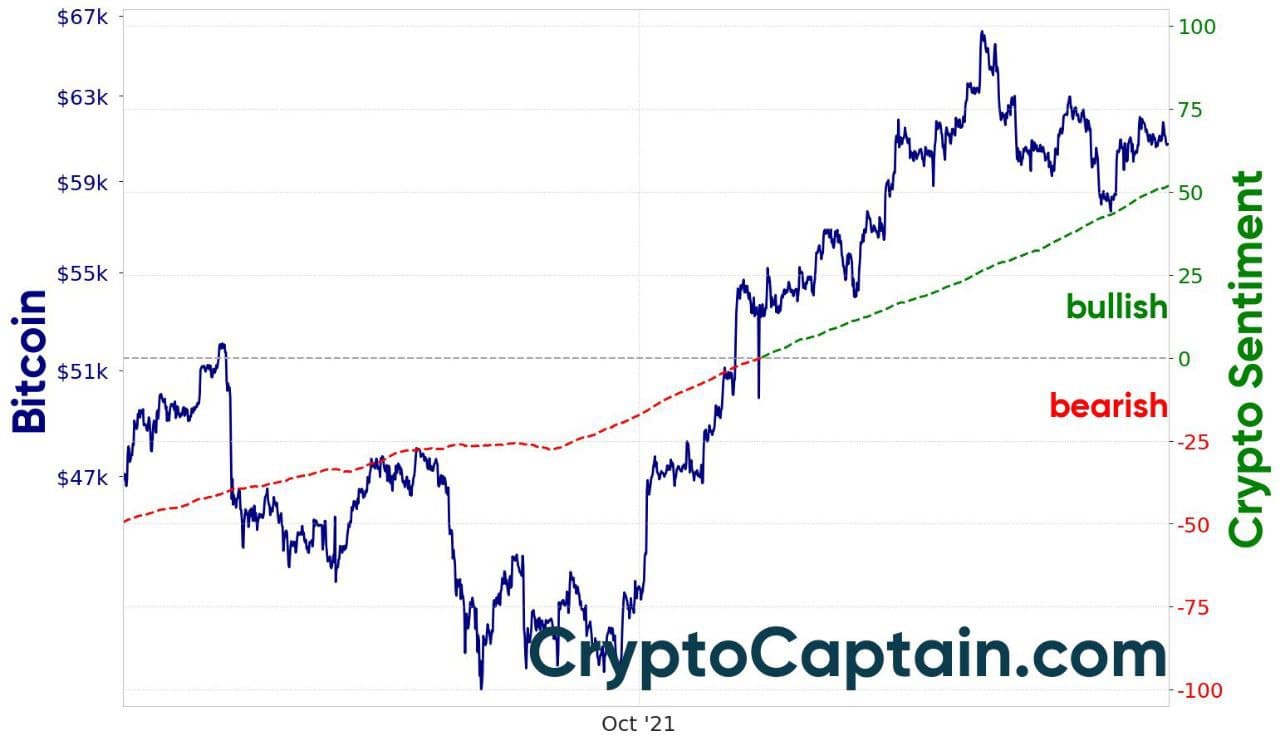 This week, Bitcoin enters the very bullish region on our market sentiment chart adding over 20% to last week's 31%. Despite taking a big dip this week, Bitcoin has recovered back to $61k, as the bull market continues.
Conclusion And Outlook
This week saw a dip of cryptos as some late long positions got liquidated. Despite the dip, important support lines for Bitcoin between $57k and $59k held. Now. Bitcoin has recovered back to $61k. So, in my opinion, the bull market can continue. CryptoCaptain's bull-bear-barometer approaches strongly bullish levels and keeps on rising. One should keep in mind that at the moment mostly long-term investors and institutions have been investing and holding crypto. There is no increased interest in crypto yet on the retail side. Retailers' interest will kick on with increased media coverage when new ATHs will be claimed by our favorite cryptos. Then retail will try to get into the market, also CryptoCaptain's member base will grow, and FOMO will drive prices.
Eventually, you guessed it, the blow-off at the top will end the party and a bear market will depress people and they will lose interest. We might witness this scenario in Q1 or Q2 in 2022. So you better be a CryptoCaptain member to be warned in time before the actual bear market kicks in. Not getting out of your positions when the time comes will bring you to tears when watching your portfolio and especially your altcoins' meltdown. Another strategy is to take small profits in regular intervals on the way up.
But let's get back to what's going on right now. The dip this week might have been regarded as a good buying opportunity for latecomers. In the meantime, ETH has already claimed a new ATH! I like ETH and also hold it personally. But that's not to recommend it as everyone has their own risk-return preferences. So in my opinion it's only a matter of time until we see higher levels for ETH, say $5k and even $6k. Along ETH other altcoins will also "explode". But not all at the same time.
Recently, there's been a rush into meme coins like Shiba Inu. Highly speculative stuff. But also more substantial coins like Verasity, Fantom, and Harmony have observed a high level of momentum. But rushing into coins that recently made a large pump is not a good recipe. A retest of recent support levels in a dip is a better one. At the same time, Cardano and dino coins like Litecoin have been consolidating on their levels and interest in these coins is low. So the question is when their turn will come. But let's not forget the king. The most conservative bet in crypto is always Bitcoin with the least downside potential.
Hope you guys are all making good money! Take care and have a great weekend!
Looking for proper buy and sell signals building on years of analytical experience? Subscribe to our signal service. Join today