A week that sees Bitcoin break above the stiff overhead resistance at $61,825.84, indicating the resumption of the uptrend. The sharp rally also completed the breakout from the inverse head and shoulders pattern that has a target objective at $69,540. Bitcoin traded at a record high of $64.5k this week. Will Bitcoin continue an upward trend in the coming week?

The price of Bitcoin took a sharp increase as expected this week as traders attempt to capitalize on the latest breakout to a new all-time high following two months of consolidation below $60,000.
Coinbase Listing On NASDAQ Will Be Positive For Cryptocurrencies
Coinbase, the top cryptocurrency exchange in the United States, on Wednesday listed on National Association of Securities Dealers Automated Quotations, NASDAQ. The sentiment around the listing has been overwhelmingly positive from both the crypto and traditional financial markets.
Crypto analysts issued a variety of perspectives related to how the listing could impact Bitcoin and altcoin prices.
Coinbase listing on NASDAQ got investors and traditional financial market optimistic for several reasons
Most notably, the two main factors are to get exposure to the crypto market without owning cryptocurrencies and the lucrative business model of Coinbase.
A financial researcher from John Street Capital state in a tweet that Coinbase is highly profitable as it has a profit of over $1.8 billion dollars for first quarter of 2021 and also has a user-base more than Venmo and Cashapp.
What Are Traders Saying About Latest Bitcoin Price Discovery?
Bitcoin reached a new all-time high at $64,895 on Wednesday. In a week that sees Bitcoin market and altcoins looking overwhelmingly bullish, the short term market sentiment seems to have a mixed reaction amongst traders. A good number of top traders maintained a mixed response in a week that saw Bitcoin experience a price discovery surpassing its ATH of $62k.
Cryptocurrency derivatives trader, Scott Melker outlined that the new ATH said that the four-hour price chart of BTC may have entered into overbought territory, advising traders to
Caution, not panic.
Michaël Van de Poppe, crypto analyst stated that Bitcoin is fine above the grey zone and a likelihood of Bitcoin continuing the upward grind if the cryptocurrency giant maintains levels above the grey zone.
 The Technicals Are Saying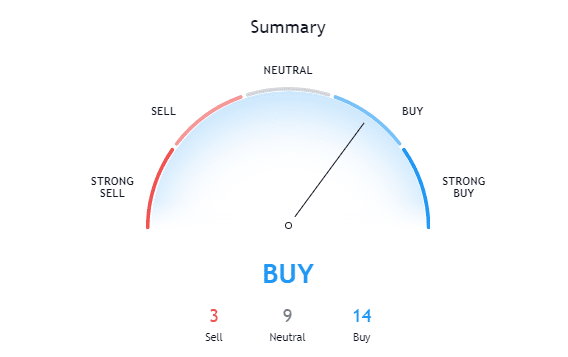 A look at the technical shows that it still supports a "buy" trend.  According to TradingView's technical analysis, 14 of the 26 technical indicators are signaling "buy" while only 9 remains neutral, while 3 of the technical indicators signal "sell".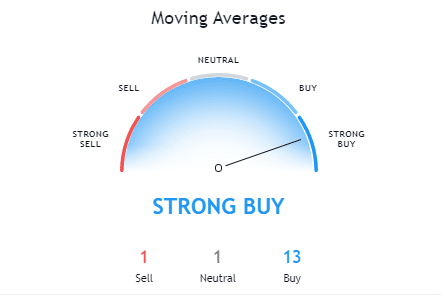 Trading view's moving averages supports a "strong buy" action. With technicals signaling buy, more trading action is expected to happen in the coming days.
CryptoCaptain Sentiment Analysis: 19% bullish
Decreasing bullishness over the course of a long bull run might signal that it runs a bit out of steam. However, the macro level bull market can still continue until the sentiment turns bearish.
Bitcoin the sentiment index has a long horizon and aims to early and fully capture the major market cycles like the 2017 bull market or the 2018 bear market.
Market Outlook
From a technical view, there are number of signs that indicate how fragile the market is, notably the bearish divergence on Bitcoin's daily chart from each higher high, but in the short-term it appears that continuation is on the cards.
Want to receive live updates on our premium crypto market sentiment and high quality investment signals of when to buy and sell crypto asset to not miss out the next bull run? Signup today