The flagship cryptocurrency has been recovering from its recent slump of around the 46,000 range having attained ATH of $64,900 last-week. Despite recent panic, some analyst still expects six-figure Bitcoin prices this year.

Pending any dramatic movement in price today, this is the first time in six years that Bitcoin will end the month of April in red.
Musk seen as a classic source for short-term Bitcoin price movements
Elon Musk and Tesla has become a subject of scrutiny and criticism from a former Bitcoin skeptic Dave Portnoy. Portnoy accused the Tesla CEO to have profited from a Bitcoin pump-and-dump engineered through his public statements supporting the cryptocurrency. The Tesla and SpaceX CEO in his defense maintained that he hasn't sold any of his Bitcoin.
This is coming just after it was announced that Tesla sold 10% of its Bitcoin holding. Portnoy took this as proof of the company's lack of belief in its long-term viability. Musk denied this and claimed that it was in fact a test of its utility. Stating clearly,
"…I have not sold any of my Bitcoin…"
What Bitcoin Experts Are Saying
One of the industry best-known investors and fund manager Dan Tapiero believes that Bitcoin is still on course to hit $100,000 this year, and its recent dip is "unchanged price action."
In his tweet on Tuesday, Tapiero highlighted a technical (TD sequential) buy signal not seen since the March 2020 crash to $3,600, Tapiero gave hope to those wondering what became of the myriad sky-high BTC price predictions for 2021. Further giving hope to traders, He said
#Hodl is the only way to be long without emotion.
https://twitter.com/DTAPCAP/status/1386844081268080644/
Michael Van De Poppe believes that Bitcoin will consolidate further over a substantial period of time which is good and a healthy part of the bull cycle.9
What The Technicals Are Saying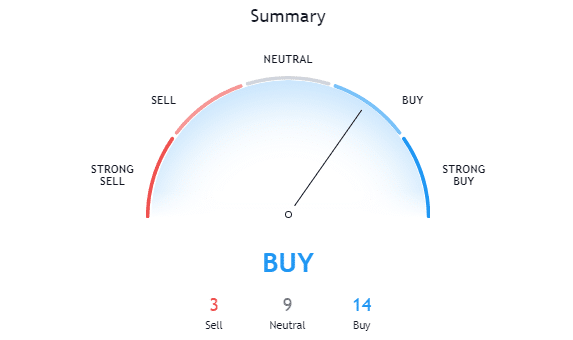 A look at the technical shows that it still supports a "buy" trend.  According to TradingView's technical analysis, 14 of the 26 technical indicators are signaling "buy" while only 9 remains neutral, while 3 of the technical indicators signal "sell". This indicates a reduced selling pressure as against last week that indicated a strong sell..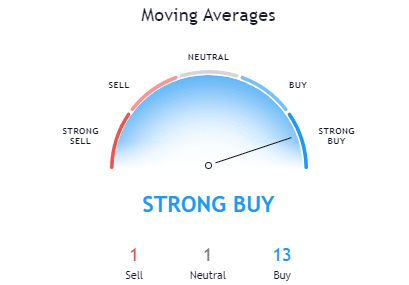 Trading view's moving averages supports a "strong buy" action. With technicals signaling a strong buy, more trading action is expected to happen in the coming days.
CryptoCaptain Sentiment Analysis: 13% bullish
Decreasing bullishness over the course of a long bull run might signal that it runs a bit out of steam. However, the macro level bull market can still continue until the sentiment turns bearish.
Our market sentiment for Bitcoin's underlying fundamentals very much suggest "business as usual" for the largest cryptocurrency despite the recent upheaval.
Bitcoin the sentiment index has a long horizon and aims to early and fully capture the major market cycles like the 2017 bull market or the 2018 bear market.
Market Outlook
Over the years, the compressed instability in the FX market and the recent surge in money supply have been two main drivers of bitcoin. Bitcoin is expected to experience a rise in volatility as investors start to realize that the trend cannot last forever. However, Bitcoin remains the asset to own.
Will Bitcoin continue the bull run and  reach $100k this year or is a bear market beginning?" – To be one of the first to know the answer, subscribe here to CryptoCaptain's premium buy and sell signals" Signup today