Bitcoin Bulls have been having a great go in the past few days as its latest upward trend sees Bitcoin taps a three months high this week. Amid regulation controversies from the US government on taxation, the Bulls are shining but bearish divergence is seen to have formed, and short-term correction looms.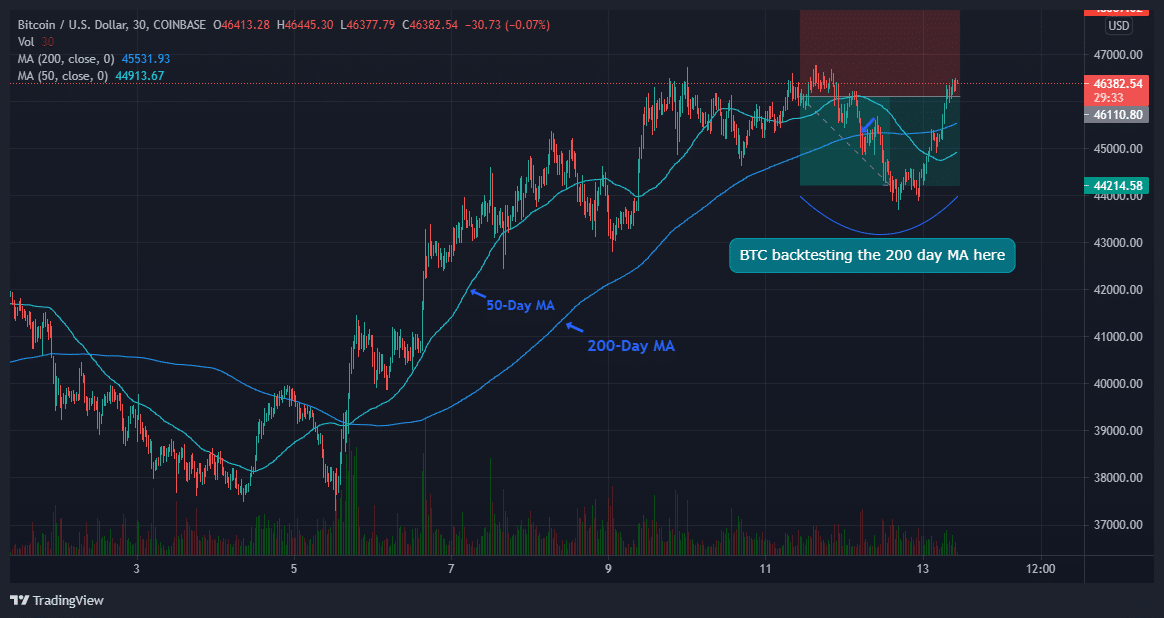 Having backtested the 200 day MA about twice this week, forming bearish divergence, the possibility of a near-term correction looms. Normally, Bitcoin would need to cement in a range around the 200-day MA to avoid falling below critical levels.
Obviously, Bitcoin's mid to long-term trend has improved significantly in recent times, and momentum continues to strengthen. Bulls are now waiting for a major buy signal to flash on the weekly chart. Trading volume needs to pick up the pace, only when that happens a potential bull rally can be expected.
Overall, the outlook looks bullish in the long run.
Isreal's Intelligence Agency Seeking To Hire A Crypto Expert
Israeli's intelligence agency Mossad is seeking to hire a crypto expert as seen on a job-listing on its official website.
The role has marked responsibilities that indicate expert will lead the initiation, planning, and accompanying systems development activities. The ideal candidate must have "in-depth technological understanding and expertise in the world of fintech, e-commerce, DEF, and digital currencies,"
Ynet, Israeli's top news platform had earlier reported that Mossad is seeking to facilitate anonymous crypto transactions to its agents for equipment supply.
This step by the Israeli Intelligence agency could mean a push into further adoption of Bitcoin in the country, middle east, and Israel's trade partners as it has been reported that Mossad has a preference for Bitcoin.
Singapore's Largest DBS Bank Wins Regulatory Approval In Singapore For Crypto Payment Services
Another bullish move for Bitcoin as Singapore's largest bank, DBS Bank wins regulatory approval for crypto payment services in the country, a new milestone for the firm.
The company announced on Thursday that it has received approval in principle from the Monetary Authority of Singapore (MAS) to make available digital token services as a payment institution.
This new approval paves way for DBSV's (Vicker) payment license allowing it to directly support asset managers who would be trading in digital payment tokens through its cryptocurrency-enabled exchange.
As reported on DBS official website, DBS digital exchange will go 24/7 to provide succor to an increasing trading volume amongst its clientele, paving way for more transactions through its channel in the country. DBS Digital Exchange (DDEx) is expected to go fully functional from Monday.
What Experts Are Saying
Analyst and Bloomberg  Intelligence senior commodity strategist Mike McGlone believes in the possibility of Bitcoin playing catch up to meet with ETH 2021 gains, and that if this happens, we could see BTC approach $100,000 this year.
In terms of ETH and BTC rivalry, McGlone maintained that from Ether's past indices, Ether could surpass Bitcoin's market cap by 2022 or 2023, however, he held strongly the opinion that Bitcoin will hit the $100,000 target.
Pseudonymous Twitter analyst, Rekt Capital noted that the $45200 has recently been a hard nut to crack for Bitcoin. If Bitcoin is able to hold this level, price is expected to move higher.
What The Bitcoin Technicals Are Saying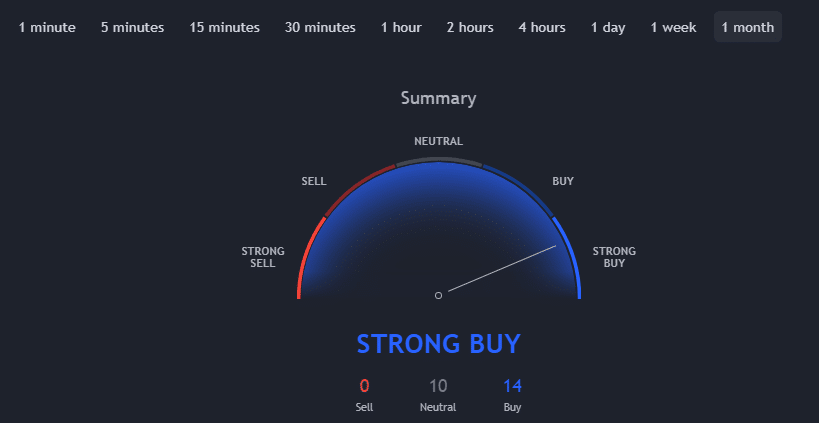 Trading View's technicals over the past month show it supports a ' Strong Buy' trend. According to Trading View's technical analysis, 14 of the 24 technical indicators are signaling "buy".  10 remain "neutral" while none of the technical indicators signal "sell". Strong buy is a massive improvement over the past two weeks from the technical analysis. Despite the buy signal from TA, we trust in the effectiveness of our AI-powered sentiment analysis.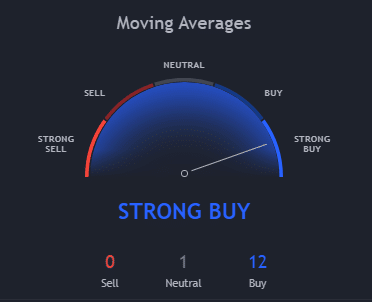 Just like the Technicals, Trading view's moving averages support a "strong-buy" action. With technicals signaling to buy, trading volume is expected to increase in the coming days.
CryptoCaptain Sentiment Analysis: 75
%
bearish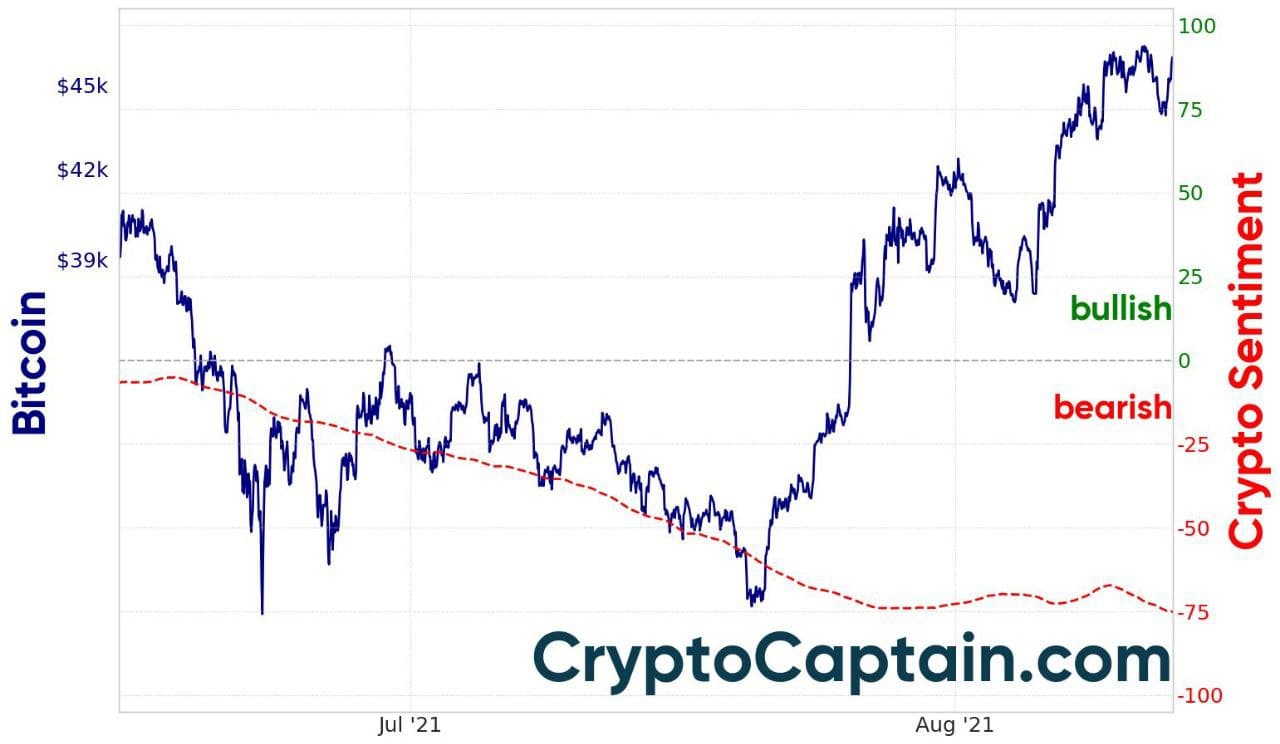 Bitcoin hit a 3-months high this week, market sentiment however remains bearish though bullish factors keep growing. Another correction lingers, though a short-term one.
Bitcoin Market Outlook
Bitcoin is in an uptrend but faces resistance around 47k to 48k. A recent correction to 44k was followed by a solid bounce today. CryptoCaptain sentiment is still bearish, but we expect a quick reversal to the bullish territory. Truly breaking resistance at 48k means continuation because at that level the crash in mid-May 2021 was initiated and reclaiming it is a bullish sign.
However, a fake-out above resistance, especially over the coming weekend is possible. That means it seems quite likely that we get some correction before continuing the uptrend. This correction, if it comes, might be a good opportunity to enter the trend for latecomers.
If you are looking for proper buy and sell signals building on years of analytical experience, subscribe to our signal service. Join today