BTC/USD price bounces off a key moving average, prompting altcoin prices to soar. Bitcoin has shown significant signs of strength this week and might just hit $50k this week. BTC has printed a more bullish pulse this week, picking up patterns similar to April's ATH. Will the improved momentum mid-time frame chart signal a full-scale return of the bulls?

As it stands, Bitcoin is climbing above multi-months high and aiming to attack the last resistance which is crucial to it reaching the $50k mark.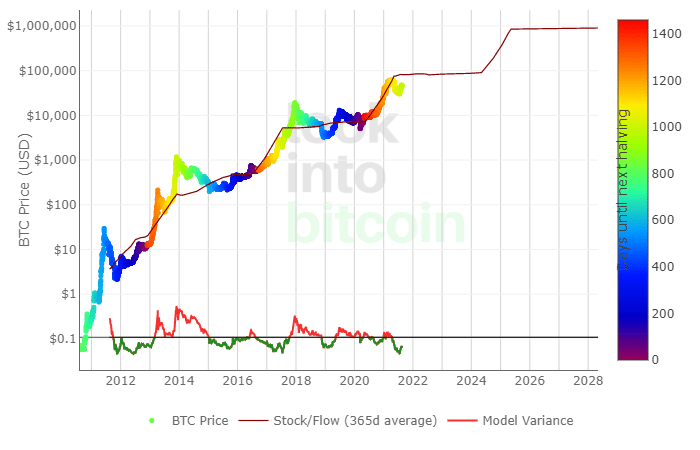 A look at the 'controversial' stock-to-flow chart indicates that we may be headed towards a return of the bull market sooner than expected, as the on-chain markers indicate a 2nd leg of the bull market is coming.
On the chart above, both the S2F (brown line) and on-chain signal (which is showing green and not red) are showing positive bull signals.
Coinbase Announces Investment of $500 Million Into Cryptocurrencies And Further Investment of 10% of Its Profits
World's renowned digital asset exchange firm, Coinbase, will inject $500 million into cryptocurrencies, further expanding its crypto holding.
Coinbase CEO, Brian Armstrong made this known on Twitter as He shared the company's crypto ambition.
Additionally, America's largest digital asset exchange will allocate 10% of all its profit into crypto going forward.
10% of Coinbase's profit is said to be around $160 million per quarter as the firm makes around the region of $1.6 billion per quarter.
Another win for Bitcoin bulls as the firm also plans to release localized services such as advanced trading and Coinbase for Institutions shortly.
Eredivisie Soccer Club PSV Eindhoven to Accept New Sponsorship Deal in Bitcoin
European cryptocurrency broker Anycoin Direct to become the official partner of PSV football club. The Netherland-based soccer club has agreed to partner with the cryptocurrency broker to help grow crypto awareness across Europe.
Moving with the latest trend amongst the footballing ecosystem, the Netherland-based top-tier soccer club joins a host of other top European soccer clubs to venture into cryptocurrencies. PSV will receive an undisclosed amount as sponsorship fee agreed with Anycoin Direct to be received in Bitcoin.
In a press statement on the club's official website, Anycoin Direct will be the club's main sponsor for the next two seasons. Anycoin Direct aim of partnering with the club is to boost awareness across Europe. This partnership makes PSV Eindhoven the first major European club to receive its sponsorship in Bitcoin.
It can be recalled that in April this year, PSV experimented with NFTs, its first crypto-related project.
What Experts Are Saying
As Bitcoin consolidated on Tuesday, reaching local lows of around $44,215, popular trader Pentoshi stated the dip was only a temporal one, claiming that the cryptocurrency giant will remind everyone who the king is.
Another expert twitted;
Lead Insights Analyst with BlockWare Intelligence, Will Clemente tweeted to his followers
What The Bitcoin Technicals Are Saying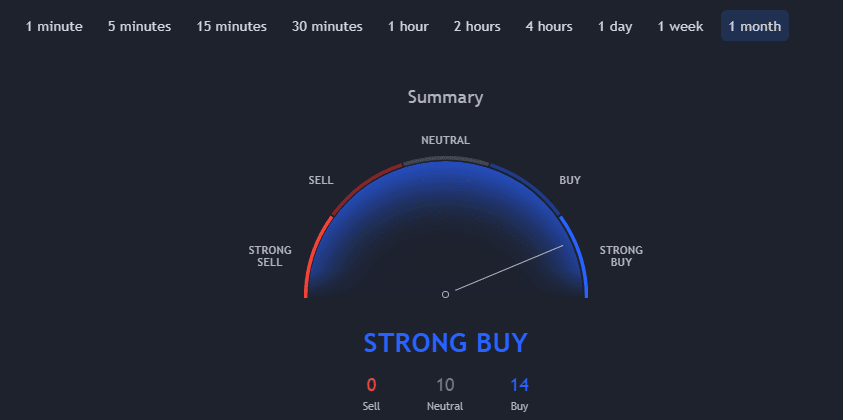 Trading View's technicals over the past month show it supports a ' Strong Buy' trend, a bullish signal. According to Trading View's technical analysis, 14 of the 24 technical indicators are signaling "buy".  10 remain "neutral" while none of the technical indicators signal "sell". Strong buy is a massive improvement over the past month from the technical analysis. Despite the buy signal from TA, we trust in the effectiveness of our AI-powered sentiment analysis.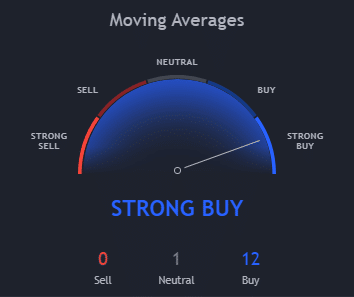 Just like the Technicals, Trading view's moving averages support a "strong-buy" action. With technicals signaling to buy, trading volume is expected to increase in the coming days.
CryptoCaptain Sentiment Analysis: 66
%
bearish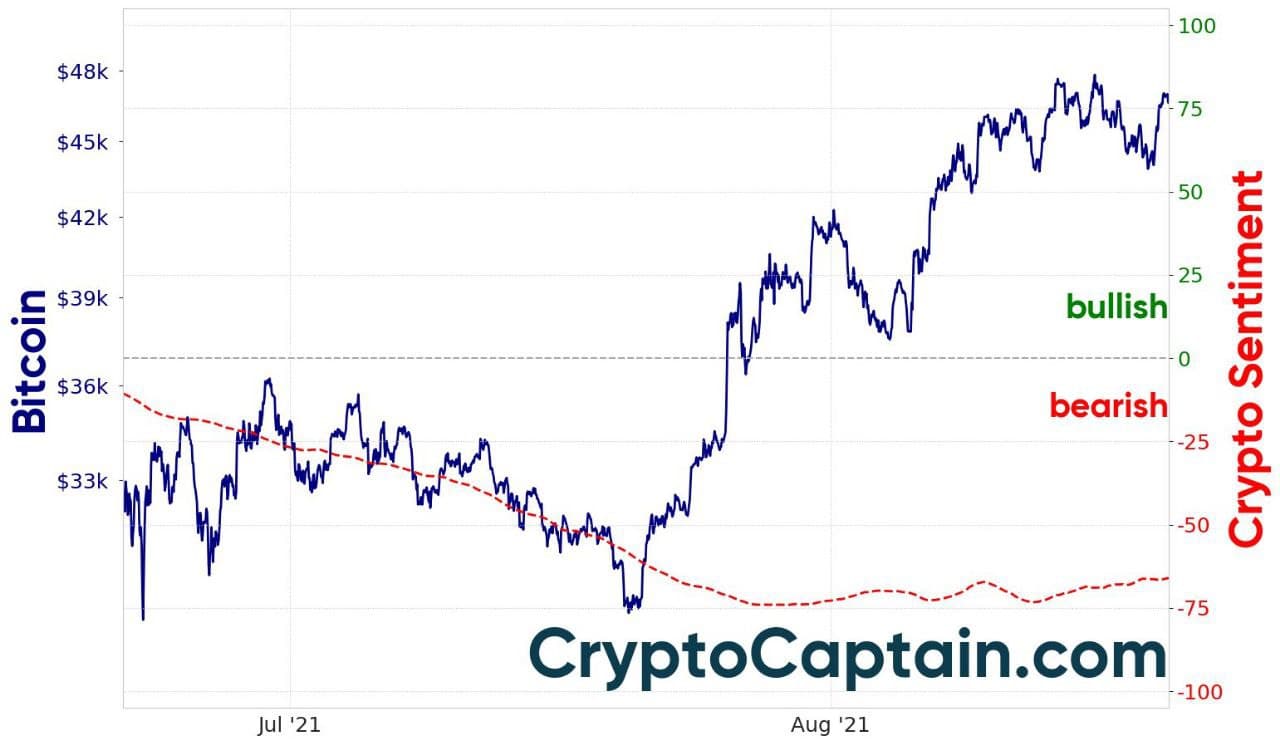 Bitcoin Market Outlook
The uptrend continues after Bitcoin found Support at 44k and CryptoCaptain entered the market on the long side along with a rising sentiment. Good signals, strong bounce, altcoins follow Bitcoin. If BTC breaks 50k, which seems possible, new highs might be seen in Q3 or Q4.
Dip to 40k is still possible but breaking 50k, then consolidating, and then new ATH might be more likely. So, everyone has become bullish and is looking again for 100x altcoins, which CryptoCaptain doesn't for more peace of mind.
If you are looking for proper buy and sell signals building on years of analytical experience, subscribe to our signal service. Join today