A week of euphoria for crypto traders and Bitcoin enthusiasts turned to one of mixed feelings after Bitcoin bulls attempt to go beyond $50k for the first time in over 3 months was met with rejection. With short-term technicals turning bearish, traders are left wondering if this is a healthy correction.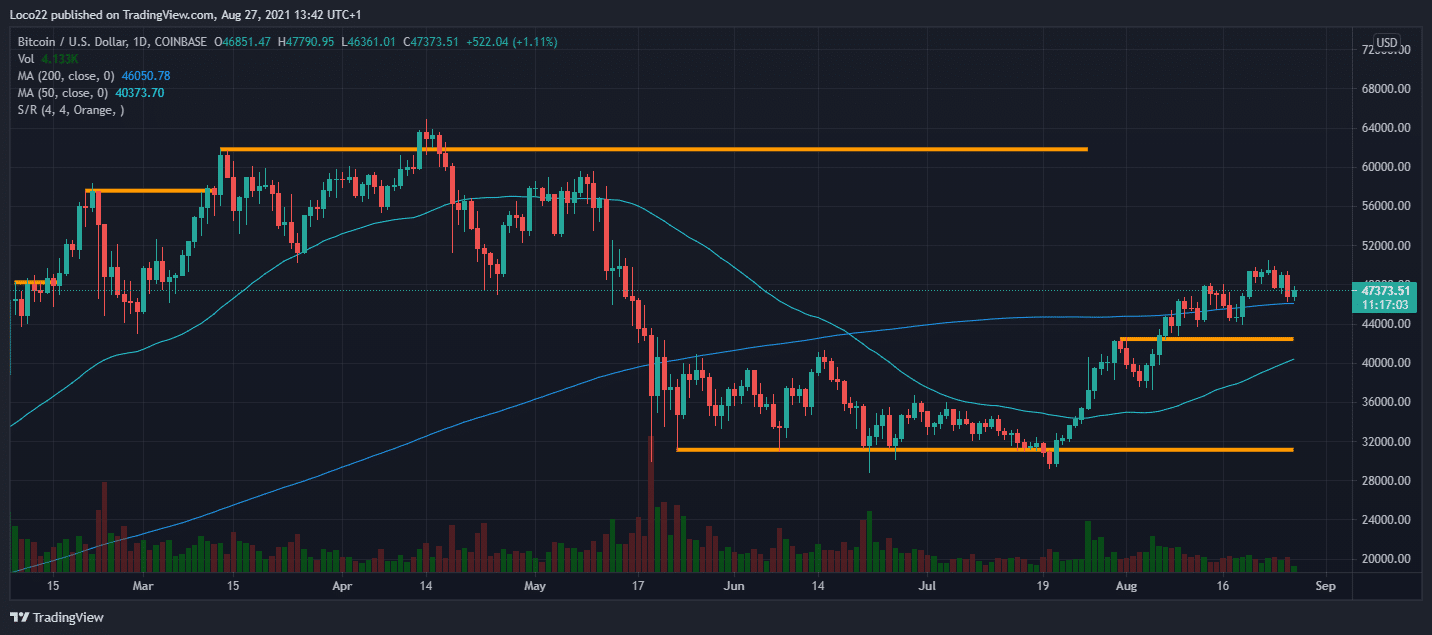 Bitcoin lost over $3k in 3 days since breaking above the $50k mark on 23 August 2021, for the first time since mid-May. The bears regained control hours later, pushing gains down south as bitcoin experienced a sharp correction, hitting a week's low of $46,550 (as at the time of putting this article together).
Altcoins were not left behind during the correction as most altcoins bled.
Cuba Looking to Recognize Bitcoin and Crypto for Payments
The Cuban government is reportedly making moves to accept Bitcoin and other cryptocurrencies as a means of payment. Coming weeks after El Salvador made history in the crypto sphere, Cuba might just be the next country to follow suit in accepting crypto as a legal tender in the country.
As reported by Bloomberg in the early hours of today, the Cuban government alongside the country's central bank is seeking to explore crypto, recognize and regulate cryptocurrencies for payments within its shores.
According to the report, the country's apex banking authority is looking to implement and figure how to license providers of such services that can operate.
Cuba is looking to revive their economy following sanctions imposed on them by the Trump administration which crippled the use of the dollar and caused the country a loss of around $20 billion as reported by Cuban top ministry official, Johana Tabalada
Cuban government believes that the decentralized nature of Bitcoin will help in its quest to revive the country's economy.
Iran to lift Bitcoin mining ban in September
Iranian power generation organization responsible for crypto regulation in the country is looking to lift the ban on crypto miners by September.
As reported by Irainian Financial Tribune, Tavanir, the country's power generation organization has made a decision to allow the resumption of mining activities in the country.
Crypto mining activities in the country were banned since mid-May, following reports that crypto mining was overburdening the country's power grid during hot summer.
Despite lifting crypto mining restrictions, Iranian authorities will stage a clampdown on illegal crypto mining activities as it is believed to be the major cause of strain on the power grid.
What Experts Are Saying
Crypto experts, Michaël van de Poppe shared with his Twitter community following the failed push above 50k
Michael believes that a further correction should be expected but Bitcoin has a massive support of $44k could protect BTC against further decline.
Crypto expert with handle @100trillionUSD tweeted;
What The Bitcoin Technicals Are Saying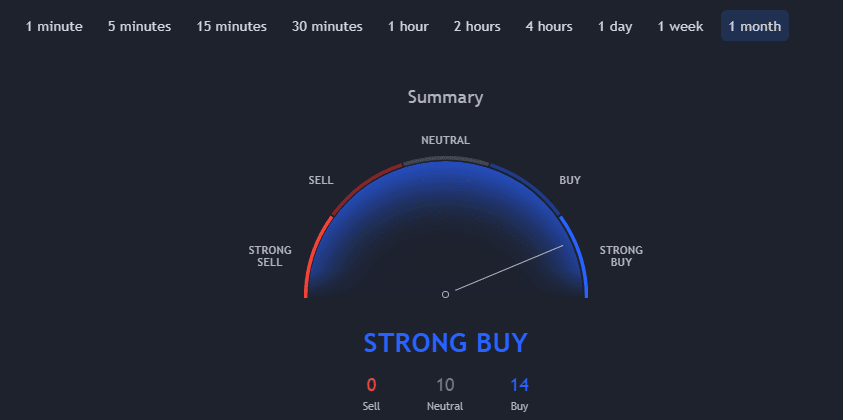 Trading View's technicals over the past month show it supports a ' Strong Buy' trend, a bullish signal. According to Trading View's technical analysis, 14 of the 24 technical indicators are signaling "buy".  10 remain "neutral" while none of the technical indicators signal "sell". Strong buy is a massive improvement over the past month from the technical analysis. Despite the buy signal from TA, we trust in the effectiveness of our AI-powered sentiment analysis.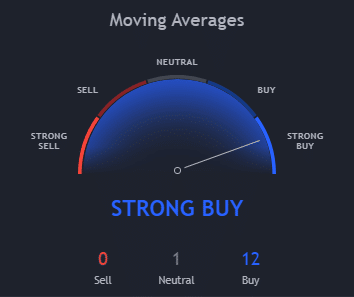 Just like the Technicals, Trading view's moving averages support a "strong-buy" action. With technicals signaling to buy, trading volume is expected to increase in the coming days.
CryptoCaptain Sentiment Analysis: 54
%
bearish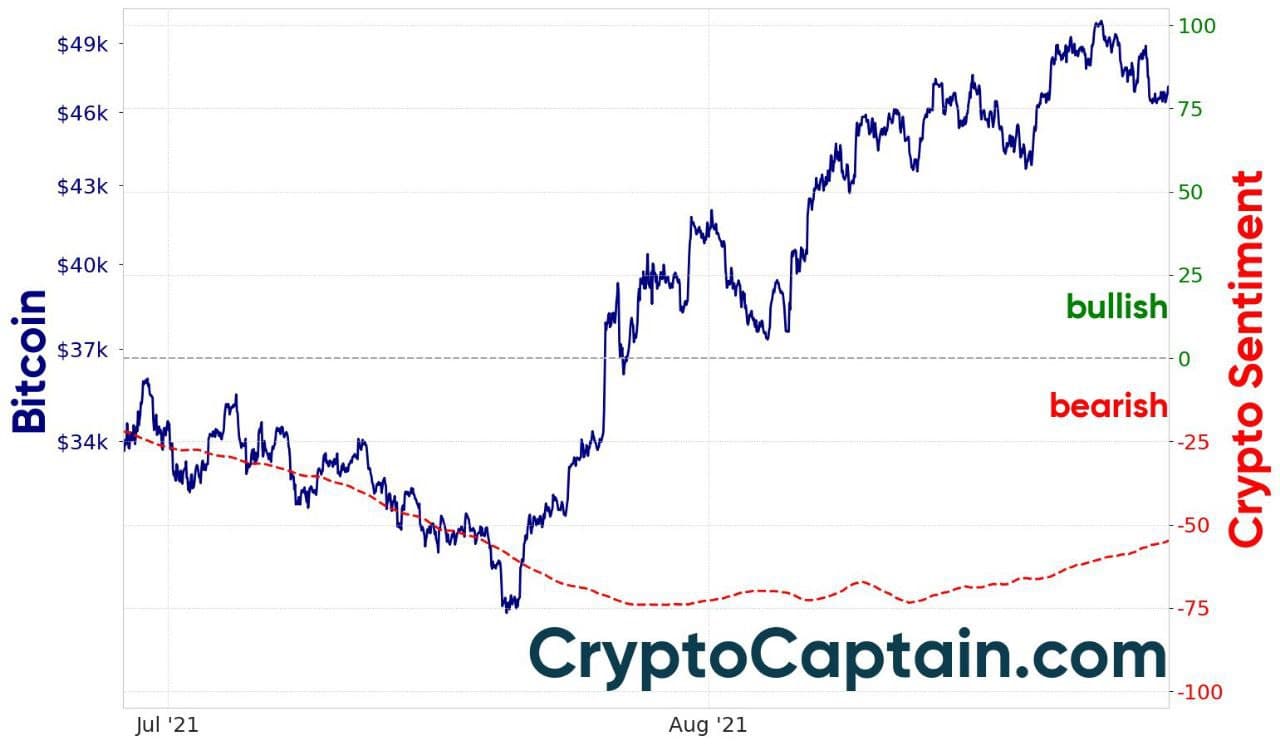 We see short-term technicals tilt a bit bearish, but this is believed to have been a healthy correction by many experts as the bears are winning as it stands. Macro-level bullishness remains intact.
Bitcoin Market Outlook
Bitcoin failed to break resistance at 51k. Thus the uptrend market structure is temporarily broken. Correction to 44k is possible where strong support should be found. Despite the correction, the macro-level bullishness has not changed. Also, Cryptocaptain's sentiment for the market is moving with the uptrend.
Ether had exciting updates, which make it a deflationary asset and a great platform for decentralized finance applications. Eventually, it is expected that Ether will flip Bitcoin and its price should increase at a faster pace than Bitcoin. Staking Ether might be an attractive passive income. Even Cardano, which is already a proof of stake-driven blockchain, but does not yet have a real use case, has seen very impressive gains in recent weeks.
Exciting times ahead for crypto.
Looking for proper buy and sell signals building on years of analytical experience? Subscribe to our signal service. Join today