Having made an inter-day push above the 50k critical level yesterday, Bitcoin is finally seen to be making a fresh attempt to go above the 50k price mark, a feat the crypto giant achieved on the 23rd August but became choppy ever since until today. While some investors remain doubtful if Bitcoin will maintain or even break the newfound $50k psychological level, some are setting higher targets.

Bitcoin continues to gain more institutional adoption. With more countries adopting or warming up to adopt the digital currency giant despite the volatile price nature, Bitcoin will be expected to retest the $60k psychological level once the bulls can close above the $50k levels. As more institutional adoption of Bitcoin is expected, the fear of missing out is also expected to kick in, which might just be the catalyst the bulls needs for new highs.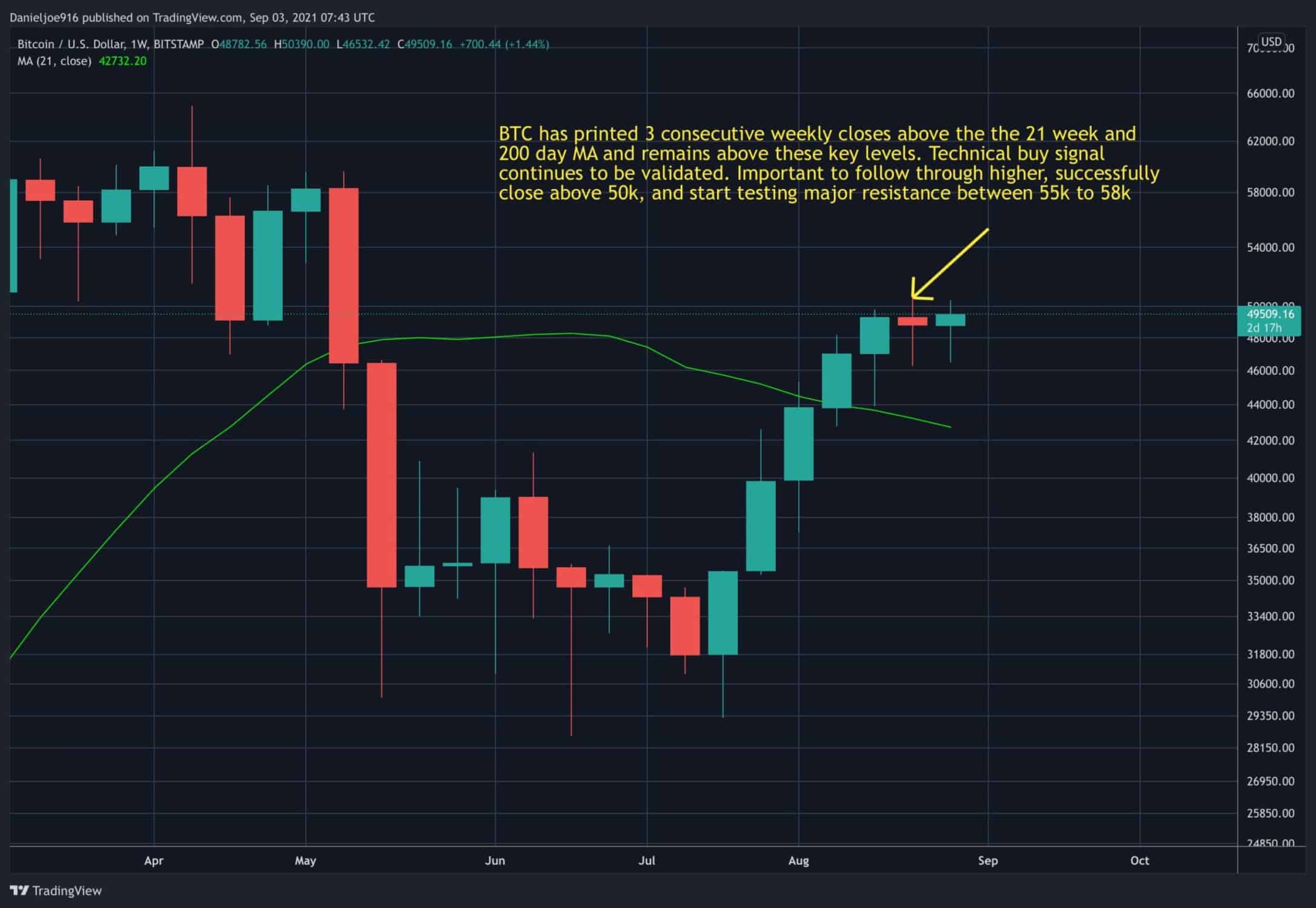 Bitcoin has shown a very bullish technical signal as BTC is seen to have made three consecutive weekly closes above the 21-week and 200-day moving average, the cryptocurrency's largest buy signal since April.
However, one important metric that has left some investors skeptical about Bitcoin is the fact that the flagship cryptocurrency has been losing its crypto market dominance having moved from 70% dominance in January to around 42%.

El Salvador's Legislative Assembly Approves $150M Bitcoin Trust
El Salvadorian Government continues its bullish moves as they approve injection of funds to further enable them to achieve crypto goals.
El Salvador's legislative assembly on Tuesday passed a bill that approves the injection of $150 million into Bitcoin Trust Funds to support the development of crypto infrastructure across the nation. The bill on Tuesday got 64 votes from officials in support of the bill while 14 voted against it.
Of the $150 million Bitcoin Trust funds, $23.3 million is set to support the installation of government-backed crypto ATMs —  which is expected to allow citizens to exchange between Bitcoin and USD. $30 million has also been earmarked as incentives to encourage the adoption of the government's digital wallet, Chivo.
This development is coming days before the country's controversial Bitcoin Law will take effect.
Belarusian President Calls On State To Mine Cryptocurrency
President Alexander Lukashenko has made a call for the usage of abandoned mining sites in the country to generate revenue from cryptocurrency mining.
Speaking at the opening of the Petrikovsky mining and processing plant on Aug. 27, the president urged workers to move into crypto mining instead of pursuing low-paying farming jobs in nearby countries. The president commented that the country has a surplus electricity supply that can handle crypto mining in Belarus.
This call is likely going to see the country make moves to support more adoption hence a bullish move.
What Experts Are Saying
Kraken's director of growth marketing at cryptocurrency exchange, Dan Held holds a firm bull belief that Bitcoin will overtake the gold market cap. Considering that Gold currently has a market cap of around $10.7 trillion and Bitcoin hovers around $1 trillion, Bitcoin still has a long way to go
Bitcoin on-chain analyst Willy Woo has this to say;
What The Bitcoin Technicals Are Saying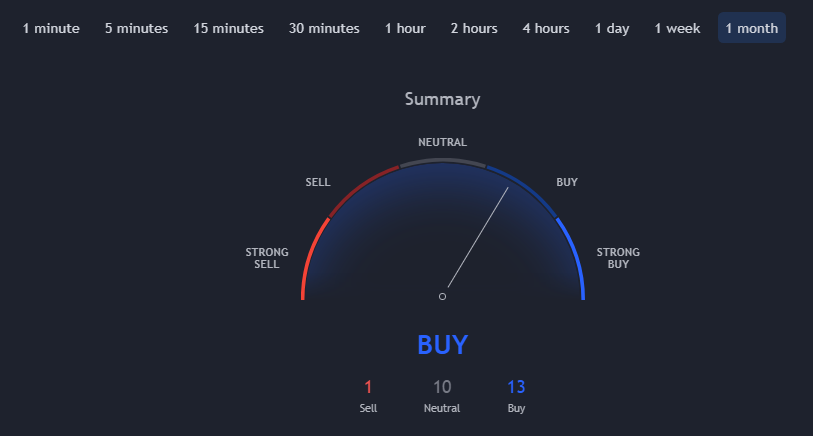 Trading View's technicals over the past month show it supports a ' Strong Buy' trend, a bullish signal. According to Trading View's technical analysis, 13 of the 24 technical indicators are signaling "buy".  10 remain "neutral" while 1 of the technical indicators signal "sell". The technicals have maintained a positive outlook for weeks now and are still expected to remain so in the coming weeks.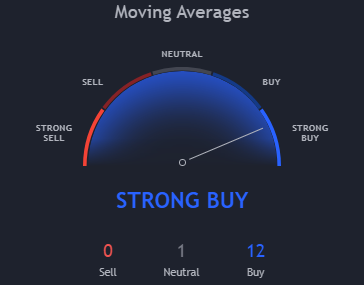 The moving averages support a "strong-buy" action. With technicals signaling to buy, trading volume is expected to maintain an uptrend in the coming days.
CryptoCaptain Sentiment Analysis: 46
%
bearish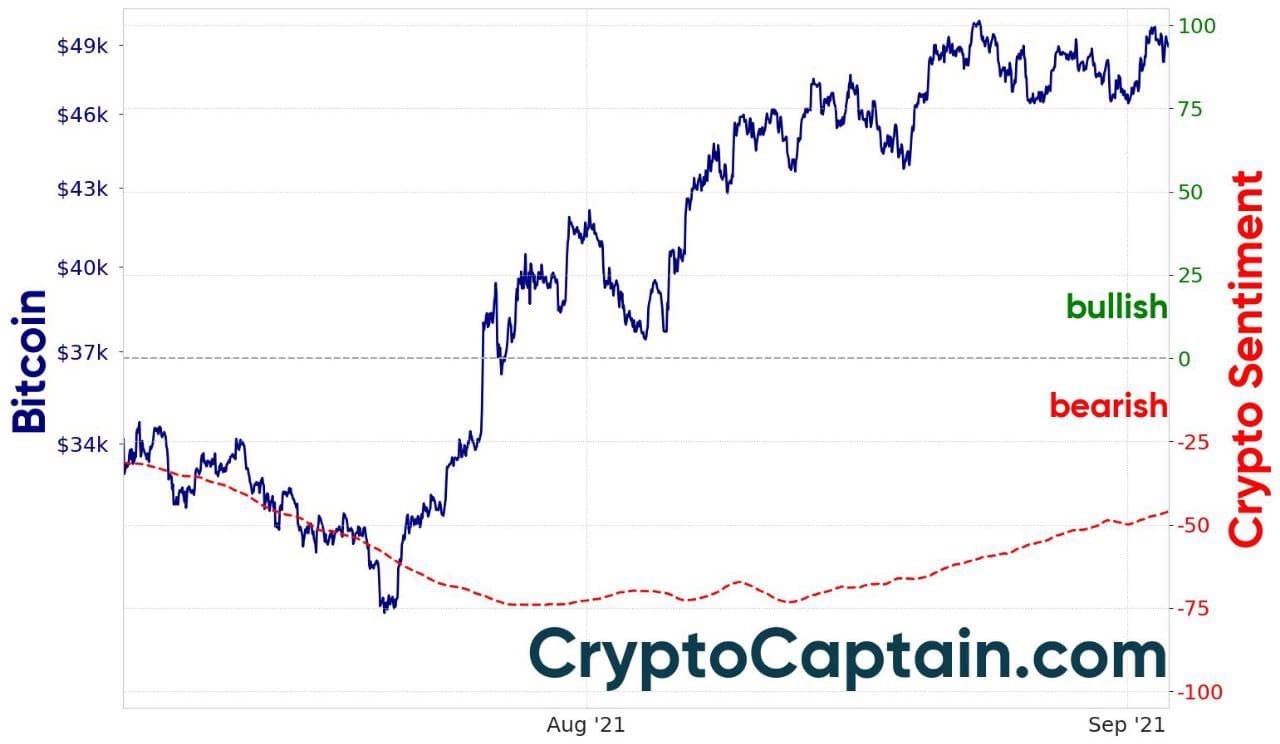 Having shown a very bullish technical signal as BTC is seen to have made three consecutive weekly closes above the 21-week and 200-day moving average, which is the cryptocurrency's largest buy signal since April. Our Bitcoin market sentiment curve has enjoyed a massive uptrend towards bullish having gone from 54% bearish this time last week to 46 bearish at the moment, implying that the bulls are winning the market battle.
Crypto Market Outlook
Bitcoin is consolidating nicely above 50k and ETH is at $3900 near its all-time high. Altcoins have been running heavily. Everybody is happy and making money again – if they did non drop out of the market in the May crash. In that case, they should have observed CryptoCaptain's sell signal that came in time before the crash and would have saved them before a +50% drawdown.
Now, regarding today's market, many analysts expect Bitcoin to prepare for a big move, say a $5k daily candle, coming soon. But in which direction? Sellers, expecting a dip to $40k before the continuation of the bull market might be caught on the wrong side.
According to a supply shock valuation model by Willy Woo, Bitcoin should go to 55k soon. Also, on-chain analysis strongly suggests that cryptos go higher. Finally, CryptoCaptain's sentiment analysis is strongly up-trending, suggesting a fair amount of bullishness. But note that when Bitcoin starts to run, altcoins might take a pause again. That's the money cycle: first, the large ones run, and then the smaller and older coins follow.
Looking for proper buy and sell signals building on years of analytical experience? Subscribe to our signal service. Join today