The past two days showed a 15% dip to the cryptocurrency king, Bitcoin. This dip has brought about panic as investors fear that further downward trend of the cryptocurrency could lead to more investors liquidating.
Bybt reports via their twitter account that there's been a total of $4.4 billion liquidated in the past 24hours.
https://twitter.com/bybt_com/status/1364118435907526656?ref_src=twsrc%5Etfw%7Ctwcamp%5Etweetembed%7Ctwterm%5E1364118435907526656%7Ctwgr%5E%7Ctwcon%5Es1_c10&ref_url=https%3A%2F%2Fpublish.twitter.com%2F%3Fquery%3Dhttps3A2F2Ftwitter.com2Fbybt_com2Fstatus2F1364118435907526656widget%3DTweet
Multiple intermittent 30% corrections in a 1-2 year bull market are normal and to be expected.
Market expert Altcoin Psycho predicted the dip in his tweet on February 20. He stated however that the market could "…correct a bit".
Regardless of the downward trend in the past two days, there has been a general 'call to calm' by many respected cryptocurrency technical analysts.
Did Janet Yellen play a role in the price plunge?
Many traders believes that the price plunge may have been as a result of the statement made on Monday by the new US treasury secretary, Janet Yellen. As reported by CNBC, the secretary stated that she fears that Bitcoin is often used for illicit finance and hence extremely inefficient way of conducting transaction.
In her words,
"I don't think that bitcoin … is widely used as a transaction mechanism,"

"To the extent it is used I fear it's often for illicit finance. It's an extremely inefficient way of conducting transactions, and the amount of energy that's consumed in processing those transactions is staggering."
Yellen's opinion contains some popular claims. However, we believe they are not true. Bitcoin is not about a transaction system but rather a store of value like gold and a much better one than fiat. Even though Bitcoin consumes energy, it creates value that covers for the consumption of energy.
Yassine Elmandjra, a cryptoasset analyst with ARKinvest, debunks the claims on energy consumption with this thread on twitter.
On bouncing back!
Michaël van de Poppe has a different view also. Michaël, a full time trader from Amsterdam Stock Exchange and a crypto price action analyst, believes that markets needs to come down before it can continue moving upwards.
The analyst emphasized that the current dip is as a result of the recurring yearly 'March Correction'. Stating that during the period of March, there have always been a correction period; in 2017 there was a 32% correction, 45% correction in 2018 with correction going sideways in March 2019 and 2020.
He further advices traders not to FOMO into entering the market in a YouTube video he made early in the day. Rather, traders should always construct entry points based on historical price action.
Top trader, investor and blockchain advisor, Crypto Rand with twitter handle @crypto_rand stated the possibility of a bounce back with the image below.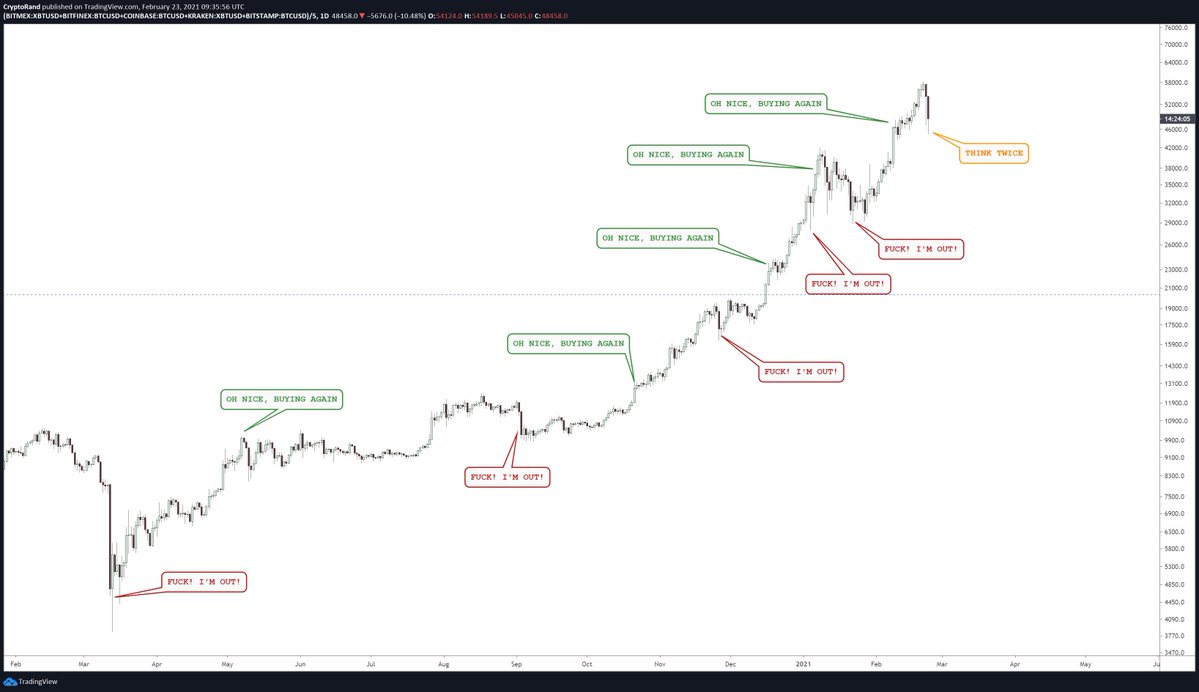 CryptoCaptain's verdict
We believe that this dip may have been caused by fears that bull market would end and so also profit taking. The correction could take some weeks. However, there's no need to panic because the fundamentals have not changed and CryptoCaptain's long-term crypto market sentiment is still bullish. Thus, Cryptocaptain expects the bull market to continue after the correction and has been holding onto its crypto asset holdings. Cryptocaptain remains transparent, our AI stance on market sentiment remains firm.
Want to receive weekly investment actions as to when to buy and sell? Signup today