Having touched an all time high of $61k, Bitcoin experienced yet another week of volatility which sees the digital currency giant take a peel back and retracing to week low of around 53k. Most altcoins experienced similar trend however, some performed much better than others. Is Resistance the hurdle to setting a new ATH?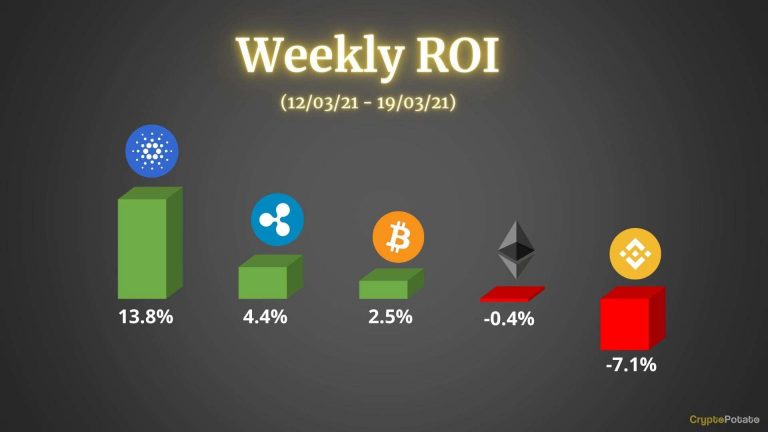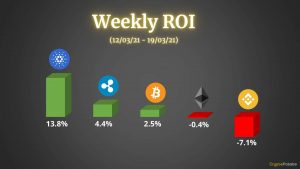 Bitcoin extended to a new record this past weekend after spiking above the $60,000-price level. It is however not likely a coincidence that Bitcoin saw strength at the same time retail investors were receiving their latest round of stimulus checks from the US government. At the same time, Bitcoin took a downtrend in the week following the record breaking weekend.
Prices Support and Resistance Levels to Watch
With Bitcoin closing on to its ATH, full time trader Michaël van de Poppe believes that the final hurdle may take some time to break. In his article on Cointelegraph, Michael stated that the market will need to retest its current resistant and support levels before a 'new impulse wave can begin'.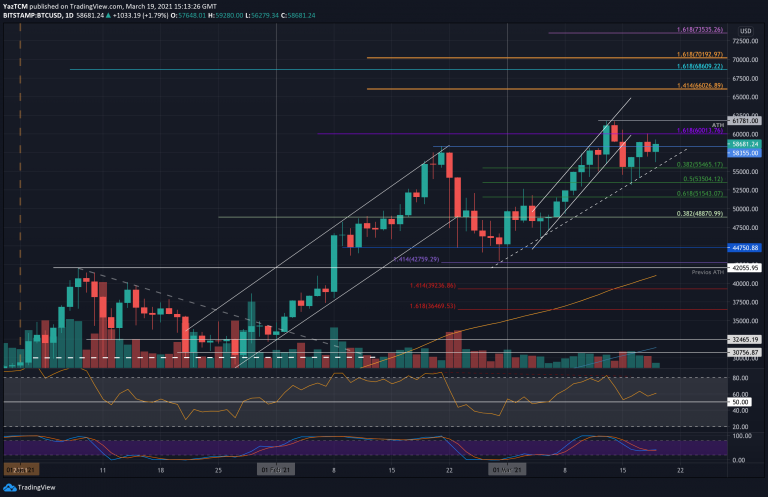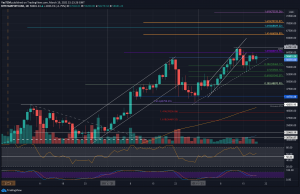 As it stands, Bitcoin is at a first level of strong resistance at $60,000 and will be looking to test a new ATH. Additional resistance lies at $65,000, $66,000, and $67,500.
Bitcoin 'too important to ignore' – Deutsche Bank
Cointelegraph reports that the global banking giant Deutsche Bank expects governments to start regulating Bitcoin by the end of 2021.
In a study made by Deutsche Bank analysts, Deutsche analyzed Bitcoin's key drivers and its historical price growth to the current market capitalization.
The firm emphasized the need for governments and Central banks to regulate Bitcoin and other cryptocurrencies by the end of 2021 as they now "understand that Bitcoin and other cryptocurrencies are here to stay" and suggested that Bitcoin price "could continue to rise" as long as companies and asset managers continue to enter the market.
Despite this, it remains to be seen whether this development would have a negative or positive impact on Bitcoin's price action in the coming days.
Crypto Sentiment Remains Bullish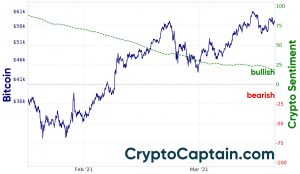 Current crypto sentiment is 18% bullish. This means that market sentiment has become less bullish over the past weeks but bull cycle is expected to make an upward trend on the long run.
Want to receive live updates on our premium crypto market sentiment and high quality investment signals of when to buy and sell crypto asset to not miss out the next bull run? Signup today
☑️ CryptoCaptain's recent investment is in profit with 150%.
☑️ To get live updates and premium signals: https://t.co/d9yl4C6eri
https://t.co/fkz1rCvOKj