Along the US goverment's economic stimulus package and large investors' crypto buyings,  the whole week witnessed a large rebound of Bitcoin from $49k to $57k after its recent correction since February 22. Will Bitcoin go above its all time high anytime soon?
Exciting stimulus news makes impact?
The crypto giant made gains on Sunday moving from around $49,000 to closing at $51,800 – this was as the US Senate approved Joe Biden's $1.9 trillion stimulus package triggering an upward trend to the digital currency valuation, with many traders believing that
"The government is going to push Bitcoin to $100,000 faster than any us thought it would happen" were the words of Anthony Pomp co-founder of Morgan Creek Digital assets and Pompletter.
https://twitter.com/apompliano/status/1369108958976303106
Having faced rejection in it's attempt to break past $52k three times this month already, making it a level to beat for the bulls, the crypto giant got off to a great start on Tuesday morning, breaking past the $52k resistance.


This development got investors worldwide excited. Many theorize that Bitcoin's price boost was triggered by the news of the $1.9 trillion stimulus, this however should not be accorded all the credit.
Bitcoin back at $1 trillion market cap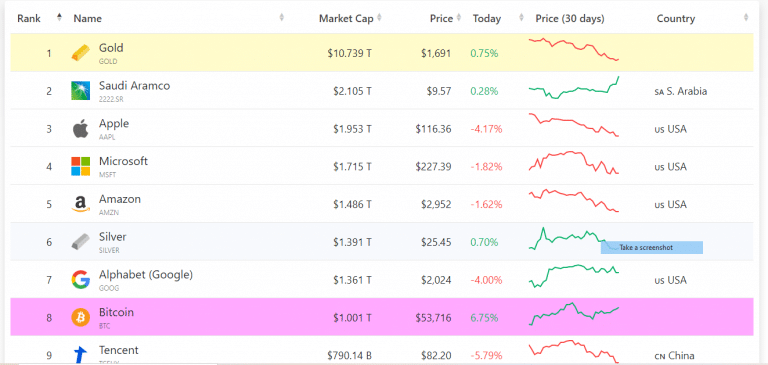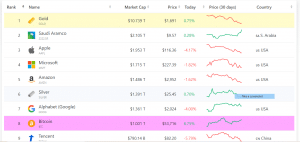 Not only did Bitcoin'S price go higher, it's market capitalization made it's way back to the trillion dollars club. The boost in market capitalization is believed to have been fueled by the upward trend of the coin as it closed high on Monday night and continued well on Tuesday.
https://twitter.com/nakamoney/status/1369104050713722885
Market capitalization is calculated by multiplying the price of Bitcoin by the number of coins created. A $1 trillion market cap puts Bitcoin on par with a number of top world stocks.
Price temporarily plunging, why?
Having made massive gains on Wednesday, Bitcoin took a temporary plunge on Thursday, plunging from local high of around $57k to $54k on Thursday morning.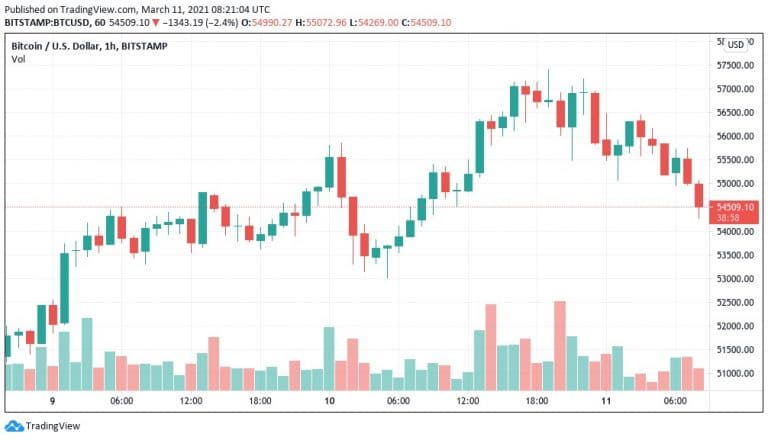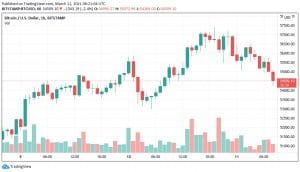 It is believed that the shed may have been caused after United States-based multinational, Oracle, debunked news that it had obtained a mega 72,000 BTC in an investment deal valued at $4bn. The previous day had seen bulls eagerly making attempts to retest the Bitcoin all time high of $58,300.
Rumours about a possible huge investment in the crypto market by Oracle had been making the rounds since February in a move that could rival other top institutional investors. While social media users and investors were awaiting confirmation of the investment on Wednesday, Oracle's co-founder Larry Ellison stated that he wasn't ready to disclose the company's plans.
As quoted by CNBC , Larry said
I'm not really ready to disclose our plans as to why I think it's going to suddenly spike but we expect very, very rapid database growth next year,
BTC has however continued to retrace its shed and make up for the losses. At the time of  putting this article together, BTC is at $57,224


Bitcoin's next station $100k, to soon to tell?
A common discourse amongst investors in the past weeks has been whether BTC will rally to the $100k price soon. We believe that Bitcoin hitting a $100k is no longer a matter of 'if' but now a matter of 'when'.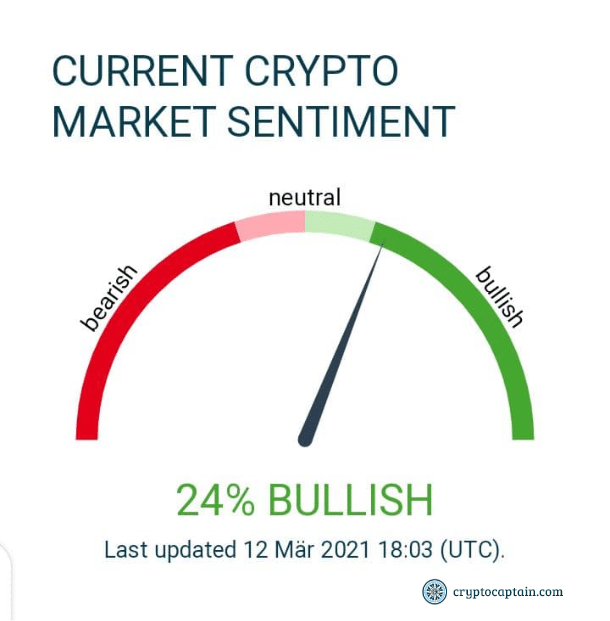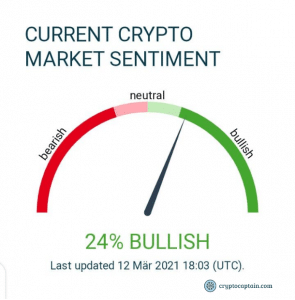 According our own analysis of the crypto market sentiment, the market is still bullish and Bitcoin hitting $100k this year or next year seems possible. This year's bull market has been brighter than 2017 as we have seen a large amount of institutional investors purchasing crypto asset. However, one has to bear in mind that our crypto market sentiment's bullishness has been declining during the last weeks. It remains to be seen whether and when it picks up energy again. Seasonal patterns and also many analysts suggest the bull market to continue into the summer.
Want to receive live updates on our premium crypto market sentiment and high quality investment signals of when to buy and sell crypto asset to not miss out the next bull run? Signup today